Today is the birthday of the delightfully wonderful author Beatrix Potter, author of The Tale of Peter Rabbit, Jemima Puddleduck, and my absolute favourite story The Tailor of Gloucester.
Beatrix Potter was born Helen Beatrix Potter in 1866 to a wealthy Unitarian family. Potter didn't have a lot of friends outside her family and she spent a lot of time with her parents and brother. Her education was done by a private governess until she was eighteen but she was taught multiple broad subjects such as languages, science, history, and literature.
Potter wrote twenty three books, each celebrating mature and country life and brought to life lasting characters such as Peter Rabbit, Jemima Puddleduck, Tom Kitten, and Mrs Tiggy-Winkle and other wonderful characters each with a wonderful story of their own.
Not only is Potter a wonderfully storyteller, but all of her stories are told with beautiful illustrations she did herself. Her mother and father were artistic and she and her brother Walter Bertrum would often draw the various small animals they kept as pets. As a child she was given private art lessons and loved painting the natural world. I remember learning too that Potter was also very interested in biology and anatomy, and liked to see how things worked, which aided in her realistic drawings of animals.
Potter did not start as an author, but rather as an artist. Her paintings and drawings were not only of animals and nature but also insects, fossils, archaeological artefacts, and fungi. These make her recognisable by the scientific community, especially her mycological illustrations and research into the reproduction of fungus spores. It was from this success that Peter Rabbit was written and illustrated, first published privately in 1901 and a year later as a small, three-colour illustrated book through Frederick Warner and Co.
Potter wanted her books to be printed small, as she took into account the small child's hands that would be reading her work. This is why those great mini Potter books exist, but are a little but rarer these days which is a shame. There is so much more to learn about Beatrix Potter, she was a fascinating woman who came from an interesting family, and her life is one that showed off not just her talents but her love of the natural world. She was a sheep herder and farmer, buying up numerous farms to preserve the land, and leaving most of her property to the National Trust upon her death.
Potter continued to write and design merchandise for her publishers until poor eyesight contributed to her stopping. She died in 1943 aged 77 from pneumonia and heart disease but her stories have lived on. There have been multiple adaptations and merchandise that keep her characters alive and will continue to do so for many years to come.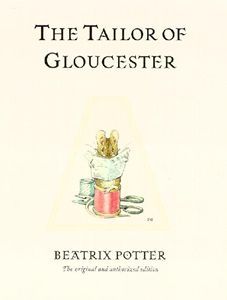 Published: September 16th 1992

Publisher: Frederick Warne & Co.
Pages: 58
Format: Book
Genre: Children
★   ★   ★   ★   ★  – 5 Stars
Beatrix Potter has a wonderful place in my heart. I not only adored the tiny little books I read as a kid, but I had The World of Peter Rabbit and Friends videos and I loved them to bits. I know everyone knows of The Tale of Peter Rabbit, but I am going to review one of my all time favourite Beatrix Potter stories, The Tailor of Gloucester.
The Tailor of Gloucester is the third book Potter wrote, and was published in 1903. It tells the story of a tailor who must make a coat for the mayor's wedding on Christmas Day. With barely a penny to his name he works with marvellous silks to create the finest coat for the occasion, all the while being watched by mice that live between the walls. The tailor frets over his work as he realises that he has no more twist of cherry-coloured silk. After sending his cat Simpkin out to retrieve some, who seems to return without it, the tailor goes home struck with a fever, unable to keep working.
As usual in Potter's wonderful style, there are clever animals that are highly personified while still looking realistic. With the tailor being the key character there is still a lot of character given to Simpkin and the mice. Though interestingly the mice speak, but the cat does not. A curiosity I never really noticed before now. This does not mean that Simpkin does not get proper characterisation; he is a little selfish, a little bit sweet, and even a little bit filled with revenge, something that manages to add a lot of drama to this tiny tale.
In a way there are many similarities between this story and the Grimm Brothers' The Elves and the Shoemaker, but I prefer this story. What makes this better is the tailor, he is such a great character, you care for him, and fear for him, and worry relentlessly about him and want him to be ok. You also chide Simpkin and love Simpkin and adore the scurrying mice that run from house to house. Also, I discovered something else wonderful whilst writing this review, this story is based on real events, though the mice were humans, but the sentiment remains!
I'm not saying that as I thought about this gorgeous book I started to tear up but I totally did and I think it is one of the most wonderful stories of Potter's, it was certainly her favourite, and it is one that should be remembered by people more often; away from Peter Rabbit and yes, as much as I adore Jemima Puddleduck even away from her sometimes.
The World of Peter Rabbit and Friends did a wonderful adaptation of this book, like all the episodes it is quite faithful, and creative, and allows Potter's characters to come to life. If you would like to watch The Tailor of Gloucester episode and have your heart moved and broken and warmed, you can watch it here. You can also read the story here.