Published: 29th August 2016

Publisher: Viking
Pages: 405
Format: Paperback
Genre: Thriller
★   ★   ★   ★   ★  – 5 Stars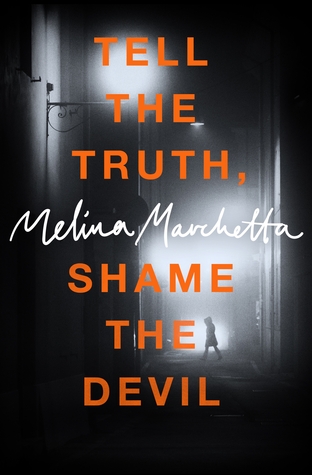 Chief Inspector Bish Ortley of the London Met, divorced and still grieving the death of his son, has been drowning his anger in Scotch. Something has to give, and he's no sooner suspended from the force than a busload of British students is subject to a deadly bomb attack across the Channel. Bish's daughter is one of those on board.
Also on the bus is Violette LeBrac. Raised in Australia, Violette has a troubled background. Thirteen years ago her grandfather bombed a London supermarket, killing dozens of people. Her mother, Noor, is serving a life sentence in connection with the incident. But before Violette's part in the French tragedy can be established, she disappears.
Bish, who was involved in Noor LeBrac's arrest, is now compelled to question everything that happened back then. And the more he delves into the lives of the family he helped put away, the more he realises that truth wears many colours.
This is Marchetta's first novel for adults and it is filled with everything that makes Marchetta great. There's everything a psychological thriller novel needs: drama, secrets, and of course, secrets. Marchetta brings you in slowly and then hooks you when you least expect it, never letting go until the final page.
There is the expected middle-aged detective for the genre but Marchetta gives Bish a more rounded presence and fuller character than just a typical disgruntled cop who breaks rules and drinks. Bish starts off as a concerned father before anything else and his sense of doing what is right compels him to find answers, even if it means dredging up the past of others and his own.
I enjoyed the setting only because if gave me a greater sense of what it was like to travel from the UK to France, how frustratingly easy it is while I am stuck on an island at the bottom of the world. Marchetta also seamlessly ties in political factors like refugees and other political concerns that add another reality around the already tense and troubling situation.
While this is Marchetta's debut adult novel, when she writes about the teen perspective her experience as a YA author shines, while still fitting wonderfully into the adult context. The lives and voices of her teen characters feel familiar if you are a fan of her YA work, and it brings more to the novel that she gives other characters such focus as she does the main character.
There are a lot of characters in the story, I found myself getting a bit confused for a while about who was who but you get into the swing of it eventually, people fall into place. I will say that her characters were very believable, as with Bish Marchetta has given each character their own something that makes them feel more real and not just another name on the page.
I loved the mystery that needed to be solved, and I loved that there is still a story about love and family amidst the terror and the thrill. The connection to the Shakespeare quote which the title is based on was fantastic and I loved how that was used in the story.
If you have only been reading Marchetta's YA up until now, this will feel right at home with what you know, while still being new, different, and wonderfully compelling.
You can purchase Tell the Truth, Shame the Devil via the following