Published: 8th July 2000

Publisher: Bloomsbury Publishing
Pages: 636
Format: Hardcover
Genre: Fantasy
★   ★   ★   ★   ★  – 5 Stars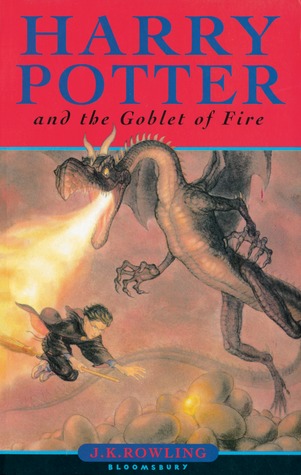 The summer holidays are dragging on and Harry Potter can't wait for the start of the school year. It is his fourth year at Hogwarts School of Witchcraft and Wizardry and there are spells to be learnt and (unluckily) Potions and Divination lessons to be attended. But Harry can't know that the atmosphere is darkening around him, and his worst enemy is preparing a fate that it seems will be inescapable.
This book was the tipping point in the series, it was the moment when things suddenly changed and everyone grew up a little bit faster. There is so much to love about this series, it's got new information about the wizarding world, new characters to love, new adventures. I love that we get to see more magical events and everyday wizarding things. The World Cup and the TriWizard Tournament are incredible parts of the story, and I love reading about everyday wizarding life.
Harry, Ron, and Hermione are wonderful as always. When I reread the books I remember more how they're only teenagers, and that they hang out with other teenagers and members of their houses much more than is shown in the movies. I love reading about shared common room experiences, and doing things with the other Weasley children. Plus with the introduction of two extra schools, it not only expands what we know, but also makes for interesting storytelling as the three schools come together.
Rowling delivers in terms of surprise and suspense. The Triwizard events were interesting enough, but with the added mystery of who put Harry's name in the Goblet, and multiple little subplots to weave in-between it goes to a whole other level. After the break of a Voldemort free book three, book four returns the focus as rumours and mahem resurfaces about the Dark Lord. Rowling brings numerous big events together intricately, beautifully, and stylishly with all the impact and emotion they deserve. The gut-wrenching scenes and the anticipation is almost too much and Rowling uses her words well to conjure up a scene in your head as you read. You feel like you are there beside Harry, in these moments of fear and stress and triumph. It's an incredible reading experience. No matter how many times I reread this I will never get over how amazing Rowling is at hiding secrets and offering slow reveals. Definitely one of my favourites books of the series.
Fun Facts
Is the fifth longest book at 190,637 words.
First published 8th July 2000
Cover art is by Giles Greenfield
The first book in the series to be released in the United States on the same date as the United Kingdom
To publicise the book, a special train named Hogwarts Express was organised by Bloomsbury, and run from King's Cross to Perth, carrying J.K. Rowling, a consignment of books for her to sign and sell, also representatives of Bloomsbury and the press. The train departed from platform 1 at King's Cross – which had been given "Platform  9 3⁄4" signs for the occasion