Published: 28 October 2014

Publisher: Random House
Pages: 387
Format: Paperback
Genre: Science Fiction
★   ★   ★   ★   ★  – 5 Stars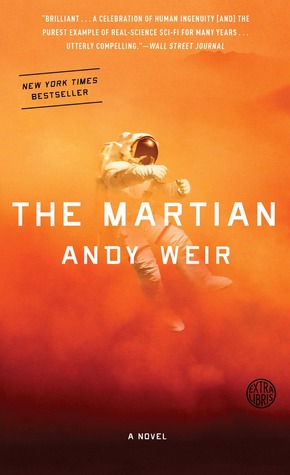 Six days ago, astronaut Mark Watney became one of the first people to walk on Mars. 
Now, he's sure he'll be the first person to die there. 
After a dust storm forces his crew to evacuate the planet while thinking him dead, Mark finds himself stranded on Mars's surface, with no way to signal Earth that he's alive. And even if he could get word out, his supplies would be gone years before a rescue could arrive. 
Chances are, though, Mark won't have time to starve to death. The damaged machinery, unforgiving environment or plain-old "human error" are much more likely to kill him first.
Armed with nothing but his ingenuity, his engineering skills–and a gallows sense of humor that proves to be his greatest source of strength–Mark embarks on a dogged quest to stay alive. But will his resourcefulness be enough to overcome the impossible odds against him?
I love this book. I knew before I started I would love this book. It's funny and clever, and I love it. You don't need to know anything about space or Mars or NASA because Weir writes in such a way that it is all official and practical, but it isn't bogged down the technical language. You know what is happening at all times and it makes you amazed. This is helped along by Watney's logs, he is a character who is fun and light-hearted so he makes jokes, and enjoys himself, even when he is in dire situations.
The events in the novel take place over a couple of years, switching between Mars and Earth. The book starts right in the middle of crisis mode on Mars. Watney is presumed dead and the team have left him behind. From there we see his struggle to survive and eventually we get to see their journey home with the knowledge he's died and can't be brought home. Watney is the main narrator, he gets first-person control. But there's ample third-person narration that comes in a few chapters in where we see the NASA side of things and how various characters contribute and are dealing with the Mars Situation. I liked the characters Weir compiled to create his not so distant future NASA (the year is never actually stated but it can be worked out and the answer is online). They're clever and tough and take no backchat. But they're also good at their jobs and excited about what they do which makes it fun for the reader to experience alongside them.
One criticism: Didn't like Annie. I know we don't have to like all the characters but she actually didn't come across as A Character We're Not Meant To Like. She was fine until she started making fun of the 'nerds'. Really Weir? Are you telling me, NASA's Director of Media Relations would be making fun of the NASA scientists for liking LOTR? The brilliant NASA scientists who are working on saving a man left on Mars? Is Annie just some random reporter who likes making fun of "nerds" despite them being in NASA herself and who deals with important things like sending people to space. Is that a nerdy thing? I don't know. I have steered this off the review but it annoys me so much that we still feel the need to make these jokes in movies and books. Can we never let go of the stereotype of making fun of people for liking things other people deem uncool? Anyway, rant over. Back to the awesome book which is awesome despite Annie. (Also it's very hard to emphasise the importance of NASA when it is already in capitals).
What I also loved about this was nothing was rushed. You see Watney's full time on Mars albeit a few months here and there. You see his slow progress working things out and taking the time to travel outside the HAB. None of it drags out, because Weir needs to explain Watney's process makes it seem plausible, and because it's Watney it's fun and interesting and hilarious. No kidding, there is so much humour in this book it's amazing. I predominantly chose to read this book because of one hilarious snippet I saw posted online and that got me in (the biggest outrage was this scene was not in the movie!). Watney tells his story through journal entries which vary in length so you will get an entry of a few pages or you may get one a few paragraphs or one line. It really mixed u the flow of the story and breaks up the story nicely into these snippets of events and times when things happen.
You would think that having to describe the day to day goings-on would be tedious and repetitive, but it isn't. Weir balances it out perfectly. We root for Watney and his struggles. We see him succeed and we see him fail. Weir makes us enjoy checking in on potato crops and solar panels because of the environment it is happening in. We're enjoying seeing Watney succeed/struggle, but we are also fascinated that it's happening at all. I could not fault this book. From beginning to end it was wonderful. I adored the ending and Weir never takes his foot off the pedal when working out logistics of everything while still making it enjoyable and understandable.
I genuinely could have started this book again the moment I finished. Instead, I watched the movie and marvelled how actually very true it was to the book. They included all the important points and any minor changes made no real difference whatsoever. It's one of the better film adaptations in my opinion. This does account for the 2.5 hour runtime though.
If you do see the film instead of reading the book I suggest you read it as well. You miss out on some of the hilarity and Watney ruling Mars by himself is a delight to behold on the page.
You can purchase The Martian via the following