Published: 1st March1996

Publisher: Puffin Books
Illustrator: Lane Smith
Pages: 32
Format: Paperback Picture Book
★   ★   ★   ★  ★  – 5 Stars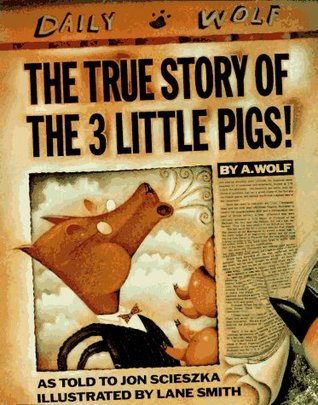 You thought you knew the story of the "The Three Little Pigs"… You thought wrong.
 
In this hysterical and clever fracture fairy tale picture book that twists point of view and perspective, young readers will finally hear the other side of the story of "The Three Little Pigs."
I love this book. I remember someone reading this book perhaps in person, perhaps on a TV show and as it was read and as I listened I fell in love. It was short and simple but what it did was show me for the very first time someone could mess with the traditional storytelling of these nursery rhymes and fairy tales.
As a kid I didn't know it could be done and yet here it was in book form telling me that what I knew was not indeed what really happened to the three little pigs. I then marched down to Dymocks with my mother and made them order it in so I could have a copy. Since then I have enjoyed reading retellings of fairytales and nursery rhymes and it all stemmed from this little book.
Scieszka has created a hilarious story and it makes you look at other stories and ponder whether they really are as innocent as they seem. It is very fun and clever and a delight to read over and over again. Alexander T Wolf is a victim of circumstance and being framed when all he was after was some sugar for his cake. His innocence is explained through misfortune and bad timing and seeing his insistence and justification that what he does wasn't really his fault connects the original story to this fractured one. The story goes an extra step further and you see what happens afterwards, but as a retelling it is one that is creative and clever and has charm and humour that you can't help but love.
The illustrations are unique with an old timey feel. The characters are realistic but with a certain creative flair to them. Smith has portrayed a world where these fairytales exist, there's one colour scheme and the style of the creatures keeps it in the fairytale realm. It feels like it happened long ago, which you get from the style of the old newspapers as well.
This really is a fantastic book. As I say, it got me hooked on fractured fairytales and retellings and the humour and tone of the narrative is delightful.
You can purchase The True Story of the Three Little Pigs via the following
QBD | Booktopia | Book Depository
Wordery | Angus and Robinson | Dymocks
Fishpond | Amazon Aust | Amazon