Published: March 2018

Publisher: Allen & Unwin
Illustrator: Robin Cowcher
Pages: 32
Format: Picture Book
★   ★   ★   ★   ★  – 5 Stars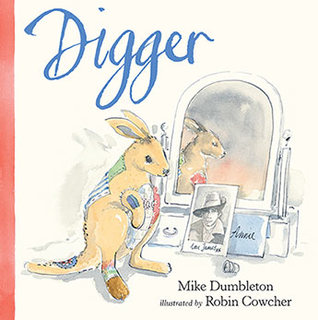 The poignant story of a toy kangaroo that goes to war with a young man who doesn't come back.
When her brother, James, went to war, Annie stitched the name Digger onto her toy kangaroo and gave him to James as a farewell present.
'A Digger for a digger,' she said, hugging her brother.
'I'll keep him safe,' James promised.
Digger is the story of one toy kangaroo, one Australian soldier and two girls, in two countries on opposite sides of a world at war. It's a quiet reminder of the casualties of war, and a tribute to the French schoolchildren who once tended the graves of Australian soldiers who died on the Western Front in the heroic battle for Villers-Bretonneux in April 1918.
I think these kinds of picture books are absolutely fantastic. Based off true stories, photographs, or personal family histories are beautifully pure and honest, even if they are a bit heartbreaking. From reading the dedication alone I teared up.
Crowcher's illustrations are roughly sketched but beautiful watercolours that match the tone of this story incredibly well. The subdued colours and the outlines capture the story without needing to be finely detailed. They express beauty and peace, and show the chaos of the battlefront without ever needing to show anything traumatic.
Digger's point of view conveys a lot of the actual conflict, his experience of the noises and the sensations. But Dumpleton doesn't stick with this perspective as it shifts from Annie, the James, to Collette on the other side of the world. This was incredibly clever because it flows seamlessly and fits in not only with history, but with engaging storytelling.
Even though you may know the outcome, it remains a touching story because it is based on truth. It is based on these boys who went to fight in a war, who were far from home, found care in unexpected places, and the importance memories of home were.
There is nothing explicitly mentioned about injury or death, but the implications are there through other characters. I really liked this approach because it actually felt more impactful to have a different soldier bring Digger to be sent home, to have a simple sentence saying James had given instructions that had to be passed on. It felt real, it felt suitable, and it was heartbreaking.
This is a timeless book because while it focuses on WWI, it still is about soldiers who fought for this country and who are still fighting, as well as those who never got to come home.
You can purchase Digger via the following
QBD | Booktopia | Book Depository
Dymocks | Wordery | Angus and Robinson