Today is the birthday of Australian author Kate Forsyth!
Kate Forsyth is an Australian author known for her children's books, her heroic fantasy series, as well as her historical novels. With more than twenty books under her belt for both adults and children, there are stories to suit all ages. She has also won or been nominated for numerous awards, including winning the Aurealis Award five times. Before becoming a writer, Forsyth worked as a journalist before then moving on to freelance work to have more time to focus on her writing. Having written her first novel at the age of seven Forsyth has gone on to become an internationally bestselling author, and shows no sign of stopping anytime soon.
Forsyth's love of fairytales is one of the reasons I really like her, her adult historical fictions Bitter Greens and The Wild Girl allow a backstage pass behind the fairytales we know and love today, including new insights into what the truth is behind these gripping stories. Bitter Greens about the origins of the tale of Rapunzel, and The Wild Girl about the woman and the love story behind many of the Grimm Brothers fairytales. Understanding how these timeless tales came about gives them so much more meaning and puts important and forgotten faces in front of stories where they belong.
One of the other things I love about Kate Forsyth is her ongoing and enduring passion for fairytales. It is a joy to hear her speak about fairytales and her passion, as well as the impact and influence they have had on her life, as is listening to her discuss her passion for books and reading in general. I implore you all to pick up one of her books, any of her books, and start reading them straight away, and I wish Kate a very happy birthday!
To learn more about Kate and her work just pick a link and start clicking!
 All Your Bits and Pieces Needs
Website
Blog
Goodreads
Twitter
Pintrest
Facebook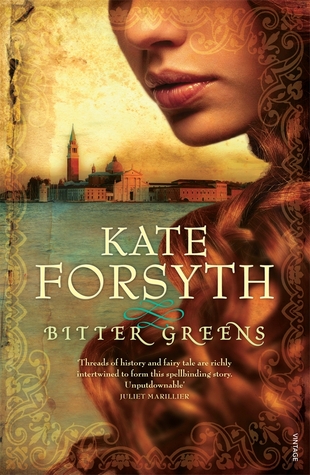 Published: 20th March 2012

Publisher: Vintage Australia
Pages: 576
Format: Book
Genre: Historical Fiction
★   ★   ★   ★   ★   – 5 Stars
Charlotte-Rose de la Force has been banished from the court of Versailles by the Sun King, Louis XIV, after a series of scandalous love affairs. She is comforted by an old nun, Sœur Seraphina, who tells her the tale of a young girl who, a hundred years earlier, is sold by her parents for a handful of bitter greens…
Selena is the famous red-haired muse of the artist Tiziano, first painted by him in 1512 and still inspiring him at the time of his death, sixty-four years later. Called La Strega Bella, Selena is at the centre of Renaissance life in Venice, a world of beauty and danger, seduction and betrayal, love and superstition, retaining her youth and beauty by the blood of young red-haired girls.
After Margherita's father steals a handful of parsley, wintercress and rapunzel from the walled garden of the courtesan Selena Leonelli, he is threatened with having both hands cut off unless he and his wife give away their little red-haired girl. And so, when she turns seven, Margherita is locked away in a tower, her hair woven together with the locks of all the girls before her, growing to womanhood under the shadow of La Strega Bella, and dreaming of being rescued…
Three women, three lives, three stories, braided together to create a compelling story of desire, obsession, black magic and the redemptive power of love.
Bitter Greens is the story of the fairytale Rapunzel, told against the backdrop of seventeenth century Europe and through the lives of many extraordinary women. The story focuses on three women in particular, Charlotte-Rose de Caumont de la Force – a member of King Louis XIV's court, Margherita – a girl stolen from her family and shut away, and a courtesan surrounded by magic – Selena Leonelli. Each of their stories is told through an intricately threaded narrative and through the eyes and lives of these women, a wonderful story is told about passion, history, and fairytale.
The way Forsyth connects each of these stories together is brilliant. Her storytelling ability is engaging, mystical, and pulls at all the right emotions. What she has done is create a compelling novel that is based on history, based on the life of Charlotte-Rose de Caumont de la Force, based on a period of time with royalty and court, convents, and just to keep things interesting, the Black Death.
The story starts with Charlotte- Rose and we learn of her banishment from court and it is through her new life in the convent that the stories of the other women are brought to life through the tale told by Sister Seraphina. The altering nature of each woman's story was particularly enjoyable because it allowed you to feel like you too were being told the story in multiple sessions by someone. An entire story cannot be told in one afternoon in the garden, and Forsyth does not try to pretend like it is possible.
As I read about the convent life Charlotte-Rose endures I remember liking it to a women's prison, though I'm sure that is a slight exaggeration but the way Forsyth describes it, especially coming from the life Charlotte-Rose had in court, it seems like a horrible place to end up and made me wonder why anyone willingly chose it. But as we see it through Charlotte-Rose's eyes we are only exposed to her view of things, and it is writing like this that is truly excellent. The story Forsyth writes is enthralling and is one that is packed with detail making you feel like you are there beside each character the entire time. This is not just for Charlotte-Rose's story though, the details throughout this book are extraordinary and there are minute details and grand details that not only add to the story but make you admire the writing and writer even more so.
By telling us the three women's stories – Charlotte-Rose, Margherita, and Selina Leonelli, you learn that everyone has a story. The women in this story do not necessarily start out as the people they become, nor do they remain the same people there were, there are, like for everyone, many influences in their lives and each of these unique women are certainly victims of their circumstance, but it is what they do with it that can change everything and makes this a gripping story.
As I say there are many points of view as well as jumps in time through this book, meaning every perspective and every story can be told. This does not result in any confusion however as each story is woven together beautifully, heartbreakingly, and magically all at once. They are all connected, flowing one after the other, twisting together with such ease that you never lose your place, nor forget what has come before. You do however get so engrossed with each story that Forsyth is telling you are suddenly brought back to reality when the scene chances again and you realise you are in a memory, or the past, or someone else's mind.
Bitter Greens isn't so much a story within a story, but at the same time it is. Sister Seraphina tells the tale of Margherita to Charlotte-Rose, but through these two stories we see many other stories emerge, histories and pasts, all connecting together in the epic tale filled with history, passion, and longing. It is truly spectacular and a joy to become lost in and the historical aspects only add to the wonder. The detail and the complexities certainly show the years of research behind it, even passing comments can be something wonderful as you recognise a small seemingly obscure part of history being referenced.
Along with everything else this book has to offer from, the way Forsyth brings the story to an end is superb. The details possibly forgotten by the reader are brought back and reconnected to the story and a full circle is made where you didn't know one needed completing. After initially being a tad saddened by the ending I soon recovered and understood. It is also hard to argue with history about where a story ends up. What was also wonderful was that the Afterword provides you with a brief ongoing story about Charlotte-Rose's life, and what became of her and how her story got to be told, there is also additional information in the Forward.
There is a lot of power in Bitter Greens, not just in the life and realities people had to deal with during this time, but also the power of the people, the women, and the stories of the past. Historical fiction, good historical fiction, can make you see the past in a new light, bring out the everyday and make it shine. That is what Forsyth has done with this book, made it not just Rapunzel's story retold, but looked at where she came from and how she came to be with integrity and adventure.
This book not only makes you realise there are more fairytale writers away from Grimm, Perrault, and Anderson, but discovering how these stories were created is astonishing. The fact that there is so much truth threaded into this work of fiction is marvellous and it makes you wish that some of the magical elements were a little bit real. Though having said that there is actually more reality than magic, and what magic there is is more on the unconventional side than fairytale magic typically is, enough to steep it more in reality than pure fantasy.
I explained this book to my sister as one she must read. She argued she did not like historical novels but I told her this was too good a story to pass up. I believe my words were "But it has fairytales! And prostitutes! And the plague!". Possibly not the best argument but it is certainly not an untrue one. Bitter Greens does have all of these things, but what Forsyth does with the fairytales, prostitutes, and the plague is something to be admired, she takes these components and captures them into this story and turns them into a novel that is must read for lovers of history and fairytales alike. This is so much more than a simple Rapunzel story, it is a story that will leave you amazed, educated, and delighted.