Published: 12 October 2021

Publisher: Margaret K. McElderry Books
Illustrator: Dan Tavis
Pages: 40
Format: Picture Book
★   ★   ★   ★   ★  – 5 Stars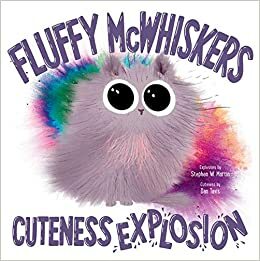 Meet Fluffy—an adorable kitten. So adorable, in fact, that anyone who sees her will spontaneously explode into balls of sparkles and fireworks. KABOOM! Poof.
Poor Fluffy doesn't want anyone to get hurt, but everything she tries, even a bad haircut, just makes her cuter! So Fluffy runs away someplace no one can find her. Find out if there's any hope for Fluffy in this funny and subversive story about self-acceptance and finding friendship in unlikely places.
This was instantly in my Top Five picture books of the year because this book is AMAZING. I laughed so much, I loved every page, I loved the words, the illustrations, the premise, the humour. I loved every single thing and I need other people to love this book.
Highlights begin before you even open the book. In lieu of author and illustrator it has 'Explosions by' and 'Cuteness by' which is FANTASTIC. Loved that. From there the greatness only went up.
It is filled with some dark humour, well as dark as a picture book can really go – animals and people do technically explode a lot in this book, but there are reasons, it is done in an adorable and hilarious way, and honestly it's that wonderful absurd humour that makes this a brilliant book.
The illustrations are brilliant, Tavis captures the essence of Cuteness for Fluffy McWhiskers and with Martin's blunt writing, the high logic of the situation and the lengths this poor burdened cat must go to it is the perfect combination to enhance the tone they're aiming for.
I could reread this story multiple times and love it each time. This poor cat, who is doing the best she can, through no fault of her own, is trying to help people, to save their lives but nothing is working. I love Martin's solution at the end and I love that there isn't actually a solution either. It was the best way to end the story.
If you want something funny and clever, something kids will certainly love as there are many, many explosions on the page, this might be the book for you.
You can purchase Fluffy McWhiskers Cuteness Explosion via the following
QBD | Booktopia | Book Depository