Published: September 24th 2012

Publisher: Epical Media
Pages: 388
Format: ebook
Genre: Science Fiction/Adventure
★   ★   ★   ★   – 4 Stars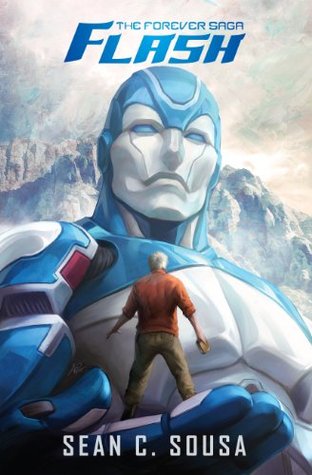 Long ago, the first reign of Grigori Geist nearly destroyed the Earth. Returned from exile, Geist is secretly rebuilding his kingdom beneath Antarctica, and assembling his robotic Vaucan race to conquer mankind. Only one obstacle remains: the war hero Brian Renney.
Yet Brian is now losing a battle against his fears. Scars of heart and mind linger in the Vietnam veteran and retired coach, fueling nightmares that leave him abrasive as a husband and father. His failures embitter his youngest son, Jason – a star athlete torn between pursuing the woman he loves, and meeting the demands of a father who is far from the storied Army captain he once was.
And all the while, Geist is coming for them.
Against an ancient tyrant and his servants, Brian and Jason must face a threat that plagues the world from deep shadows…and gain an ally who, once meant for evil, will forever be a force for good.
Note: I was provided a copy of this book for review
As an introduction to a series, its characters, and its world Sousa has done a good job, there is a lot of information given about Geist as well as Brian's family, but not so much that there is nowhere to go in terms of discovery. By not knowing why Geist is interested in Brian all there is to do is wonder and speculate and see where the story will go. I know there is a great story starting in this series, but I have to say I loved the characters the most, Brian and Jason especially. Jason as a character was one I automatically liked, he was fun, real, funny but serious when needed to be. Brian on the other hand took a bit of warming up to but I soon had a lot of compassion for him, and a touch of sympathy.
The contrast between Brian and Jason's stories are interesting. While Brian's seems important on a larger scale, the everyday nature of Jason's makes for an engaging read as well. Alessa, his hockey, and everyday things help you connect with him and his problems, it is a great balance against Brian's and gives you something entertaining to read alongside this grander storyline. Jason's story also gives you an insight into Brian's as well, working off one another and helping to develop well rounded characters not just for the two of them, but those around them.
Sousa is very good at establishing character. No matter whose perspective we were following, or which character was present you are able to get a great sense of who they are as people. Characters are real and complicated, and with realistic interactions and reactions in multiple scenarios it made them enjoyable to read about. We are shown more than just Brian and Jason's point of view, some only fleeting, and not all of them in great detail, but even so it lets us see a little more into who they are.
Relationships are a key focus in this story and the relationships between each character were great to read; the strained relationship between Jason and Brian, Mary's forgiving nature but slightly frustrated approach to her marriage, not to mention the honest friendship that is evident between Jason and his roommates. I actually found myself initially more interested in the day to day of these characters than the storyline about Geist, even though one often was the cause of another, but as the narrative picked up its pace there was a cross over that brought the two storylines together giving it another element and raised my interest.
Sousa also uses the environment well to get us to understand his characters. Whether it is Jason and his hockey games, Brian's nightmares, or even just the events surrounding Flash and Geist, they all help to understand the characters more in a natural and realistic way than narrative explanations alone. I have to say I admired Brian, he is a guy who is struggling with himself and his demons. He takes it out on his family and gets frustrated with himself for his failings. Through Brian's nightmares and his self reprimand we are able to understand more of his past and how the battles he has faced have shaped the man we are introduced to. Gradually you can see improvements in his nature as he starts to mend but it is not without its struggles.
There are many moments in this book where you can see Brian's true nature and inner conflict, but what I think was the best, sweetest, and saddest was when he is at the electronics store. No spoilers but in such a simple scene Brian's approach to life and his self worth is captured and you really understand who he is. There are other moments where this is possible, but that was one that was such a mix of emotions that I thought gave Brian hope, before he took it away from himself.
Sousa provides information to the readers using events in the story; giving cause for there to be information provided. He works it into the narrative well without it feeling unnatural or only there for reader benefit. Understanding the vaucan Flash and his abilities is one of these instances where we are given an explanation of each of his skills which works within the story and doesn't feel like it is being explained for our benefit alone. Sousa blends the information we need with the required story and together it makes it interesting as well as seamless.
At the start of the story it feels like there are two separate stories happening side by side, unconnected. And in a way they are, two separate lines that start on their journey but you know they are connected due to hints and references, you just don't know how yet so you wait for them to come together and start following the same path. When this inevitable cross in storyline occurs, there still appears to be two separate stories, but they are now slowly becoming more connected, though there is still an element of mystery. It is interesting and you easily get caught up in one before switching back to the other, they do not merge exactly, more like overlap then carry on simultaneously. After awhile it doesn't feel like we are being told the story, we are simply watching the events unfold and act as observers. This is a great technique and one that Sousa pulls of rather well.
Overall the narrative is interesting, the Geist and Flash story is clearly going to develop but this works as a great introduction, enough is revealed to help you understand but there is room to grow and expand further. By the end we are given answers to some things while not others, and when anything is possible you are not always sure how things will play out but you look forward to finding out.