Published: 28th April 2015

Publisher: Hachette Australia (ATOM)
Pages: 361
Format: Paperback
Genre: Young Adult Fantasy
★   ★   ★  ★   ★  – 5 Stars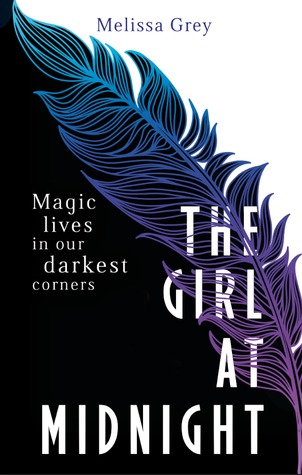 For readers of Cassandra Clare's City of Bones and Leigh Bardugo's Shadow and Bone, The Girl at Midnight is the story of a modern girl caught in an ancient war.
Beneath the streets of New York City live the Avicen, an ancient race of people with feathers for hair and magic running through their veins. Age-old enchantments keep them hidden from humans. All but one. Echo is a runaway pickpocket who survives by selling stolen treasures on the black market, and the Avicen are the only family she's ever known.
Echo is clever and daring, and at times she can be brash, but above all else she's fiercely loyal. So when a centuries-old war crests on the borders of her home, she decides it's time to act.
Legend has it that there is a way to end the conflict once and for all: find the Firebird, a mythical entity believed to possess power the likes of which the world has never seen. It will be no easy task, but if life as a thief has taught Echo anything, it's how to hunt down what she wants . . . and how to take it.
But some jobs aren't as straightforward as they seem. And this one might just set the world on fire.
Note: I was provided with a copy of this book from the publisher for review.
I loved this book from start to finish, from the enchanting beginning where worlds cross over in the dark quiet of a library at night to an explosive story that is filled with amazing characters who you love and hate and understand so wonderfully. From page one Grey's words take hold of you and bring you into this mysterious world filled with mystical races and an ancient war looming in the background. There is a great mixture of both modern and magical elements and Grey blends the fantasy and the real together extremely well.
With amazing skill Grey has created an exciting and well-rounded world, not just about the Avicen people and their history and feuds, but how their world blends into the real world and the structure of their society. The creativity she has shown, even in the minute detail, is marvellous and the build up is enthralling. As you read it makes you yearn for more, to see more, and learn and hear more about the adventures and past events discussed. Being an introduction to a new world, Grey incorporates descriptions and depicts the world beautifully and through character's eyes people and places are described and established without ever feeling out of place or clunky. In doing so characters are introduced and described and an understanding of the rules and the society is comprehensible without needing a long explanation. This balance works perfectly and there is never a moment where the story jars or you're taken out of the narrative due to misunderstandings or confusion.
Echo is a brilliant character, she has the right amount of spark and uniqueness without it being her sole quality and it isn't something that defines her. Her personality is not what makes her different, Echo is just herself and this is what makes her brilliant. I loved that her tough nature, street smarts and cheekiness did not make her special, what makes her special is being human among Avicens and even then this difference is not that dominating. All of the other characters are just as wonderful though. They are vibrant, colourful, and unique and they really are their own people, not just supporting characters. One thing Grey excels at is able to give a feeling of completeness to her characters, even with just the briefest encounters.
The narrative was compelling from the early pages but by the final few chapters Grey has built up your excitement and fervour so much that as you read your heart is pounding, you are on the edge of your seat with anticipation and you wish you had the next book in the series to pick up the second you finished that final page. I loved the thrill in the final chapters when there are not many pages left and your mind races with trying to work out how the narrative can be resolved with so little space but Grey manages to bring it to a brilliant ending.
There are surprises and mysteries that make you wonder and even when the answers suddenly become clear Grey still manages to surprise you and add another element to what you thought you had already figured out. What makes this another level of brilliant is that things that seem innocent have much more meaning that they appear and when everything falls into place it makes so much sense and it is an incredible experience and realisation.
I seriously cannot praise this story enough, it was an absolute joy to read this book and I wait with eager anticipation for the remaining books in the series. If this book is anything to go by the rest will be just as spectacular and Melissa Grey is definitely an author I will be paying a lot of attention to in the future.
 You can purchase The Girl At Midnight via the following when released (some have preorder!)
Hachette Australia   |     Waterstones
Nail art time!
Hachette/Date a Book is running a The Girl at Midnight nail art competition for reviewers which is being judged by the skilled and talented The Bookish Manicurist. My lines are a little wobbly, but it was fun!
Close up of the feather
Nail polish art is not my forte, nor am I much of a nail polish wearer but nevertheless this was quite fun, I may need to attempt it at another point in the future. With a tiny paint brush at my disposal (with no detail brush handy) and an accent nail that's currently annoyingly short, it isn't perfect, but not that bad for my first attempt I must say!