Published: 15th December 2015

Publisher: Prairie Sky Publishing
Pages: 130
Format: ebook
Genre: short stories
★   ★   ★  – 3 Stars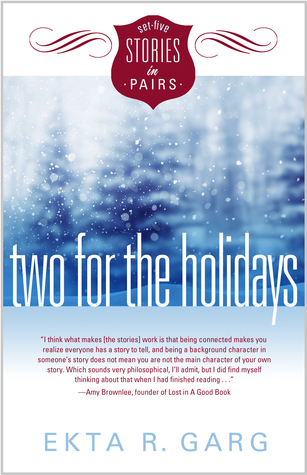 A medium gets ready for one of the biggest days in her career speaking to the dead. An elf accepts an unusual assignment and faces his past. Two stories about people tied to holiday-themed professions. Two stories about the reality of life's hardships in the last quarter of the year. Two stories for the holidays. 
The first story, "Take A Breath": Marisa Bellini has travelled to a tiny town on Halloween to help people contact the dead. She's built an empire on the idea that she can talk to ghosts…but can she really? Sometimes even Marisa isn't sure.
The second story, "The Truth About Elves": Curtis, an elf, sets the record straight. No, elves don't have pointy ears, they aren't three feet tall, and they don't live at the North Pole all year long. When Curtis gets a special assignment from the big man himself, though, he learns that Christmas magic has the power to transform everything he's known for the last decade.
Come spend the holidays with Marisa and Curtis, and join the Stories in Pairs journey!
 Note: I was provided with a copy of this book from the author for review.
This is the fifth Stories in Pairs set by Garg, and once again two unique stories are presented with a common theme connecting them. As the title suggests Two for the Holidays revolves around the holidays, Halloween and Christmas respectively, and through her characters Garg explores the personal trials and hardships faced during this time.
Each story was interesting and tugged at your curiosity for where it was heading. There are hints at what is hidden and with characters skirting around issues means you are often guessing and trying to work out what has actually happened, but this is intertwined with magic and mystery and other plot elements that keep each story flowing. At times there didn't seem to be a clear direction, and the hints and things unspoken often made it perplexing, but as the pieces fell into place they offered a revelation that brought each story home.
The first story follows medium Marisa as she puts on a show for a small town during Halloween. While an interesting behind the scenes is depicted of the practice, there is also an ongoing uncertainty about what is real and what is fake. Marisa's story was interesting because Garg alludes to some things and discredits others, leaving you not entirely sure what is real and what isn't. What's unexplained doesn't leave a cliff hanger exactly, but leaves you intrigued all the same.
The second story I felt explored the themes much better, but it also had a lot to wrap your head around and focus on. Curtis' story offers a creative approach to Santa and the Christmas season and after you get used to the style and the voice, the story is quite interesting, and certainly creative. Garg alternates between first and third person and there is a lot more not being said and yet continually hinted at. Through this you can piece together snippets of Curtis' life and as more is revealed the story falls into place nicely.
Overall this pair of stories was not as captivating as Garg's previous sets, but knowing the message she was trying to tell it is evident she achieved that. The gradual revelations and slow reveals work in building anticipation and curiosity, and the exploration of the anguish and emotional nature of the holidays is certainly clear. Each character struggles with hardships in their life and the unique and creative approaches Garg has taken allows a new look at how loss affects people during the holidays and how it can affect every aspect of their lives.
You can purchase Two for the Holidays via the following