It a few months into my 2016 Book Bingo and I'm long overdue for a check-in. As May begins I've read 7 books and no Bingo as of yet. I haven't been actively trying to fill it in for a few months but I'm going to try again as I catch up on my reading this month. There are a few I'm looking forward to filling in like Reimagining a Classic, or finding one from an author with my initials, and as always I'm adding the Book Bingo icon to my review posts so you can see which books have been included in between updates.
A Fairytale Retelling
The Princess Companion by Melanie Cellier
I was really excited to read this story, it's a retelling of The Princess and the Pea fairytale by Hans Christian Andersen, and what drew me to it was that this delightful story rarely gets the attention other fairytales do and I was excited to see what Cellier's retelling would be. It was a remarkable story, and one she managed to expand into a full-length novel considering it is one of the shortest fairytales I know of. It is still The Princess and the Pea story we all recognise, but told in a way that it becomes a whole new story on its own. There's still so much of a fairytale in this story: woodcutter's daughter, godmothers, princes, and kingdoms, but Cellier manages to create something more intricate and complex than the original tale. It is sweet, creative, and incredibly clever.
Set in Australia
Dead, Actually by Kaz Delaney
I've had Kaz's books sitting on my shelf for way too long before I finally got a chance to read them but I'm so glad I finally made the time. This YA story has a side of paranormal but still keeps the everyday contemporary feel as well. There is so much to love about this book: the characters, the mystery, the fabulous writing that sends your heart and mind crazy with anticipation and suspense. I loved everything about this book from start to finish, it's enthralling, it's messy and complicated, but that is what makes it exhilarating to read.
LGBTQIA Character
The Sidekicks by Will Kostakis
I read this in part because I was going to Penguin Teen's YASquad and wanted to read the author's attending but I like to think I'd have picked up this story anyway. There is so much to love about this story, the boys themselves in particular. The story is told in three parts, with each of the three boys telling their story. This is a LGBTQIA book because of Ryan, a guy who isn't yet brave enough to come out and who struggles not only with his friend's death, but trying to work out who he is now that he's gone. Seeing him come to terms with himself and the struggle he faces is touching and heartbreaking at the same time.
Author You've Never Read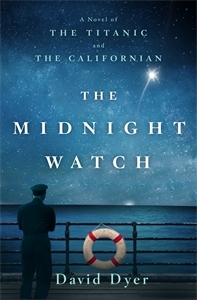 The Midnight Watch by David Dyer
When I first learnt about this book I was so excited to read it. This is the story of The Californian, the ship famous for being near the Titanic when she sank and not coming to her rescue. It is a brilliant read that takes a lot of its narrative and dialogue from official records. This is Dyer's debut novel and it is filled with emotion and history and all things to make you angry and frustrated and heartbroken. If you love the story of Titanic and reading incredibly real historical fiction then this is a wonderful read.
On TBR For More Than A Year
Jasper Jones by Craig Silvey
I can't believe how long this book has been out before I got to read it. I had it on my TBR when it was released in 2010 I think it was. I'm glad I read it though because it's a great story, it's clear why this won so many awards. This is a historical coming of age story set in 1960s Australia. It's a compelling story about a totally different time and the innocence, prejudices, and hidden secrets of a small town.
Recommended By A Friend
Darkest Place by Jaye Ford
I have been wanting to read something of Jaye Ford's for a while and this was a great chance to start. The recommendation came with so much praise for this story and the emotions that were experienced whilst reading I was looking forward to having the same reaction. It was certainly as intense and suspenseful as promised. The story is about a woman who is trying to start her life over after a horrible accident but she learns that her new place isn't the new start she was after. She is convinced there is someone sneaking into her apartment but no one believes her and there's no evidence to support her claims. As you read you want to believe her but start to doubt yourself and wonder whether she is overly paranoid or is actually right all along.
Self Published
The Crow Box by Nikki Rae
As a longtime lover of Nikki Rae I jumped at her new story. Rae has always self-published, all the way back with her Sunshine Series and The Donor novella. The Crow Box is the start of her new series and is filled with all the things I love about Rae; her stories are dark, intense, with twists and surprises and a little paranormal element that makes it a thrilling read. Reading Rae is a clear example of why self published people shouldn't be judged or thought less of, there can be some incredible stories out there if you give them a go.