Published: 11th October 2011

Publisher: Random House Children's Books
Pages: 260
Format: Paperback
Genre: Young Adult
★   ★   ★   ★  – 4 Stars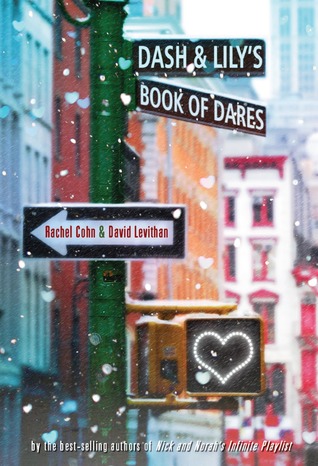 "I've left some clues for you.
If you want them, turn the page.
If you don't, put the book back on the shelf, please."

16-year-old Lily has left a red notebook full of challenges on her favourite bookstore shelf, waiting for just the right guy to come along and accept its dares. Dash, in a bad mood during the holidays, happens to be the first guy to pick up the notebook and rise to its challenges.

What follows is a whirlwind romance as Dash and Lily trade dares, dreams, and desires in the notebook they pass back and forth at locations all across New York City. But can their in-person selves possibly connect as well as their notebook versions, or will their scavenger hunt end in a comic mismatch of disastrous proportions?

I picked this up after hearing a synopsis of the plot, but when I realised it was a David Levithan collaboration I wondered why I hadn't heard of it sooner.
I loved this story. I loved the premise and the treasure hunt, hidden journal, and mystery authors. I loved that it was innocent and fun and that it worked because of so many reasons. In the age of Google and phones it was a good old fashioned hunt with clues and cryptic messages that needed to be understood to be played properly. Respect for the quest and curiosity as the main propulsion.
Each journal entry offers more insight into either Lily or Dash and it's clear how the two connect with one another. We follow Dash's perspective and see his intentions and reasons, the same for Lily's chapters, but we get a little more when we read what they tell one another and challenge one another to do.
I had a fleeting moment, very, very fleeting, where I compared Dash to Holden Caulfield but then I immediately changed my mind and reprimanded myself for thinking such a thing. Dash is Dash for many reasons. No one lets him get away with being a snarly sullen teen who *almost* judges the world and others as lesser people. But Boomer is his best defender, and others see right through him. As you get to know Dash you fall in love with him and see his side of things and love him more for it.
Lily has the same issues in a way. She's 16 but has the innocence of an 8-year-old at times. She needs to be protected by the family for an odd reason I'll admit, but her wide-eyed charm of loving life, Christmas, and her family is very sweet.
All the characters in this are charming and wonderful in their own way. Cohen and Levithan have done a wonderful job in this collaboration and you can see how they've created these amazing characters that are charming but not entirely faultless or too perfect either. The story is set at Christmas but isn't necessarily a Christmas story. It is about two teenagers finding each other in a city of millions and connecting on a deeper level and finding something special in one another. Cohn and Levithan explore Lily and Dash's lives through each other and it tells a wonderful story filled with adventures and surprises and a little bit of luck and the desire to take chances.
You can purchase Dash and Lily's Book of Dares via the following