Published: 26th July 2016 (print)/20th July 2016 (audio)

Publisher:  Flatiron Books /Bolinda Audio
Pages: 415/15 discs
Narrator: Caroline Lee
Format: Audiobook
Genre: Fiction
★   ★   ★  – 3 Stars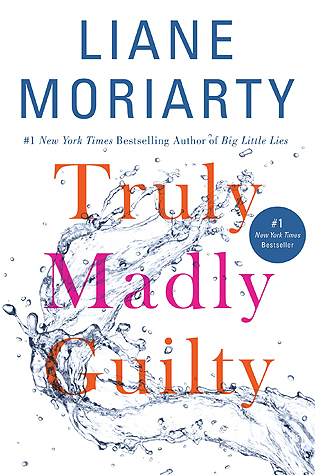 Six responsible adults. Three cute kids. One small dog. It's just a normal weekend. What could possibly go wrong?
Sam and Clementine have a wonderful, albeit, busy life: they have two little girls, Sam has just started a new dream job, and Clementine, a cellist, is busy preparing for the audition of a lifetime. If there's anything they can count on, it's each other.

Clementine and Erika are each other's oldest friends. A single look between them can convey an entire conversation. But theirs is a complicated relationship, so when Erika mentions a last minute invitation to a barbecue with her neighbors, Tiffany and Vid, Clementine and Sam don't hesitate. Having Tiffany and Vid's larger than life personalities there will be a welcome respite.

Two months later, it won't stop raining, and Clementine and Sam can't stop asking themselves the question: What if we hadn't gone?

First of all, let's all rejoice, I have read a Moriarty book I didn't dislike! It was interesting, it had characters I liked and who were interesting, and there was a good plot that had purpose and flow.
After a few unenjoyable books by Moriarty I was worried going into this but it surprised me. The classic "I'm not going to tell you what I've been hinting at for most of the book until almost the end" Moriarty approach is there which surprisingly worked very well in this story. In the past, it's been a frustratingly drawn out longer than need be experience, but this time it works ideally. With the numerous perspectives to cover it spreads the novel out and covers multiple angles and adds depth to the story and more complexities.
With so many characters Moriarty circles around the unspoken event, also known as "the worst day" and just as you get closer she spirals out again. It seamless and I loved that we inch our way closer and closer and then are flung straight back out again into someone else's point of view and backwards or forwards through time.
The characters are full and brought their lives to the page, Moriarty showing us exactly who they are with a few words or actions that encapsulates them perfectly and Lee adds another level with her excellent voices and narrating ability. Each character felt real to some degree and had their own depth and unique quality. Moriarty made even the briefest characters have something that made them stand out. I enjoyed Oliver's kind but abrupt nature, and while I disliked Erika's character, I liked that she was different and could annoy me, which is a weird experience. On the other hand, I can't tell if I feel sorry for Harry or not. In a way I think we are meant to feel sorry for him, but at the same time not. I liked that Moriarty made me have such conflicting feelings about so many of her characters.
When the surprise does come it's after much speculation on the reader's part and Moriarty doesn't disappoint. The slow reveal is wonderful and linked to so many characters that it adds more questions and sparks a whole other set of problems and dramas.
The ending I think was perfect, it was the best ending for the characters and I am glad Moriarty didn't try to make it any other way which she easily could have. There are surprises and wonderful moments, it's not without its problems but it was an enjoyable book that was complicated and messy and revealed how one single event can affect everyone differently and can change everything.
You can purchase Truly Madly Guilty via the following
Book Depository | Kobo| Fishpond
Amazon | Amazon Aust | QBD