Published: 7th June 2018

Publisher: Orchard Books
Pages: 282
Format: Paperback
Genre: Young Adult
★   ★   ★   ★   ★  – 5 Stars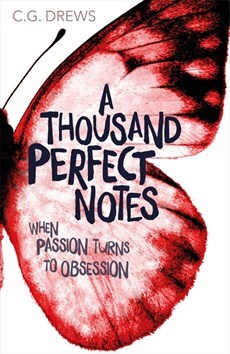 Beck hates his life. He hates his violent mother. He hates his home. Most of all, he hates the piano that his mother forces him to play hour after hour, day after day. He will never play as she did before illness ended her career and left her bitter and broken. But Beck is too scared to stand up to his mother, and tell her his true passion, which is composing his own music – because the least suggestion of rebellion on his part ends in violence.
When Beck meets August, a girl full of life, energy and laughter, love begins to awaken within him and he glimpses a way to escape his painful existence. But dare he reach for it?
Note: I received a copy from the publisher for review
Ugh, my heart!
My heart!
I don't think you understand, my HEART IS ACHING!
What have you done to me Drews?!
So they were the notes I'd written down whilst I read this book. Not much changed by the end of it. I was astounded and moved and just in awe of Beck. I hugged this book when I finished. Actually hugged it. I've done that with maybe 2 or 3 other books ever.  Before that I spent the whole book wanting to hug Beck himself, I loved him from page one and by the end I was ready to fight for him come hell or high water.
With the anticipation and impatience I felt waiting for this book I'm so glad it was everything I thought it was going to be and so much more. I haven't felt a love like this for a character for a while. A true character who is a victim of circumstance, a true sweetheart, and a lost soul unsure what to do. He is brave and strong and every time we get an insight into his thoughts my heart swelled and my love for him grew.
Despite being Beck's story, there are really four people that are the focus of this novel: Beck, Maestro, Joey, and August. Drews balanced their stories really well, even through Beck's eyes we get adequate focus on their lives and stories that give them depth as characters in their own right. Nothing feels rushed or glossed over. Information comes naturally and we discover little things about each character gradually, not through clunky exposition or info dumps. Their lives are also perfectly intertwined back into Beck's that it all still feels about him and his experience.
I loved these other characters too in their own way. Joey was one who had my sympathies and broke my heart as well for different reasons. Drews balances the 5 year old mind very well; Joey has no tact, she's excitable, impressionable, but she is also a loving sister. There are times as you read when you have forgotten her age and with skill and mastery Drews throws it in your face and reminds you just how young and fragile she can be.
Drews use of language is fantastic, there are wonderful sentences filled with beauty and pain that encapsulate Beck's thoughts and feelings. August too has some brilliant insights that Drews perfects in a single sentence. I have many favourite moments from this book but the single sentence "marshmallow with burnt skin" is my all time favourite and it is Divine! I read that and just thought perfection.
There is so much I want to say about this book, the language, the story itself, the ending, the middle. All of it was perfection in my eyes from start to finish. I don't want to give anything away because the pockets of surprises and the big surprises are what make reading this story so great. I will be rereading this book so many times because while it crushes my heart it also makes me so unequivocally happy and who wouldn't want to relive that over and over again?
You can preorder A Thousand Perfect Notes via the following
Book Depository | Greenhouse Agency
Barnes and Noble | Waterstones