Published: 16th August 2011 (print) / 5th April 2012 (audio)

Publisher: Crown Publishers / Random House AudioBooks
Pages: 374 / 15 hrs and 40 mins
Narrator: Wil Wheaton
Format: Paperback/Audio
Genre: Science Fiction/Dystopia
★   ★   ★   ★   ★  – 5 Stars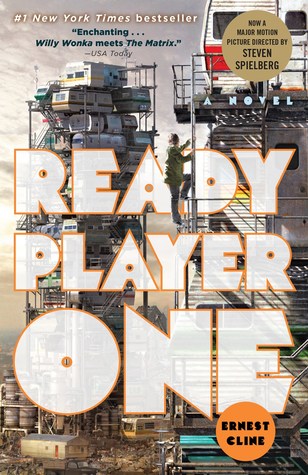 In the year 2045, reality is an ugly place. The only time teenage Wade Watts really feels alive is when he's jacked into the virtual utopia known as the OASIS. Wade's devoted his life to studying the puzzles hidden within this world's digital confines, puzzles that are based on their creator's obsession with the pop culture of decades past and that promise massive power and fortune to whoever can unlock them. When Wade stumbles upon the first clue, he finds himself beset by players willing to kill to take this ultimate prize. The race is on, and if Wade's going to survive, he'll have to win—and confront the real world he's always been so desperate to escape. 
I loved this story. I loved that Wade was able to geek out about his love of videos games and it was a widely supported thing. I also loved how Cline brilliantly and so creatively managed to combine popular culture and video games with a futuristic dystopian setting while also making it feel so retro at the same time.
It was a good move on Cline's part to establish that Wade was obsessed with all things 80s. It made sense in terms of Halliday and it helped include as many references as possible without needing to explain it to the readers too much. Knowing Wade is the kind of stickler for details and knowing so much, it also made sense to have so many references about every song that plays or game that's mentioned. The moments of convenience where Wade knows what something is to tell us, the uninformed reader, doesn't come across as unbelievable because it has been long proven that Wade knows obscure details and is proud of it.
The world and future Cline has created sounds both amazing, terrifying, and also pretty much believable. The detail he included is astounding because so often it doesn't mean anything but it expands on the OASIS universe or real society just that little bit more. I loved that when Wade was logged into the OASIS you felt like you too were immersed inside the virtual reality and I could easily imagine every move he made inside the system. Cline's writing explains the futuristic dystopian world wonderfully and creates a vivid image of that society is like at both ends and across the country and how it connects naturally with the OASIS system.
There is everything to love about this book if you like the 80s, or are a fan of videogames. The 80s references are abundant, and the joy in reliving movies and games from a less technological time is brilliant. It gave me a great appreciation of how far videos games have come, even if a few of them were fabricated the familiar concept was there; creating avatars, inventories and points, not to mention the solving of riddles and treasure hunts. The other retro joy was remembering arcade games and seeing familiar games in the spotlight again.
The 2045 setting allowed Cline to take from both worlds, not so far in the future that a focus and having believable knowledge and access to 20th century media wasn't possible, but also far enough ahead that based on current technology and gaming trends, it is also highly believable that we could get to that stage with minds like Halliday at the helm.
There are a myriad of surprises in this book, you never know what to expect because you don't know what kind of world Cline has created and when anything is possible inside virtual reality, anything is possible. What I found interesting was that I actually found this quite believable. I could see that if such a system existed that there would be those who would try and monetise it and make it more exclusive. I could also see that when there is a mass fortune on the line people can get desperate.
Cline's imagination is astounding. He has created a world and a virtual world that brings together so many vast and obscure references that even though I knew only a few, I still loved that they were there. I had so much trust in him that these games and characters existed I didn't even question it. This is just one of the reasons I loved this book. It is so clever, and the OASIS is such a fantastic world that the inside jokes and references make it a better experience, and the excitement Wade has as he hunts for the egg is shared by the reader. Well, this reader anyway.
It's not just the references or the structure, the characters he has put into this world make all the difference as well. The development and understanding of online relationships is wonderful and I found myself wishing that such a system like OASIS existed because it sounds amazing. Wade's online connections as Parzival with Art3mis, Aech, and all the other online avatars demonstrates a great community and allows Cline to show off more of this amazing OASIS that he has created and allows him to show more sides of its functions, away from just hunting for the egg.
I listened to both the audiobook and read the physical book. The audio was read by Wil Wheaton and he did a great job. It was especially more enjoyable because Wil himself is mentioned in the book as well as multiple Star Trek references.  I like to think that even if you didn't like or play video games or even if you don't like or understand a lot of the references you would still enjoy this book. It has mystery and suspense, and there are twists and turns and surprises that make it an engaging read. Like a video game there are battles and side quests, and there are levels that you must go through even if you don't realise it when you read. An important part too is that Cline keeps the timeline realistic, understanding that with all puzzles there can be short bursts and long waits, and Cline fits his story into this mould perfectly.
I think I could go on about this book forever but I won't. I urge you to read it if it's something you think you would like, even if you don't think you will give it a go. It's an adventure and a mystery and it's dystopia all in one.
You can purchase Ready Player One via the following
Amazon | Amazon Aust | Audible