Published: 8th February 2018 (print) / 1st March 2018 (audio)

Publisher: Raven Book / Bolinda/Audible
Pages: 512 / 16 hrs and 41 mins
Narrator: Jot Davies
Format: Audio
Genre: Historical/Crime
★   ★   ★   ★   ★  – 5 Stars
How do you stop a murder that's already happened?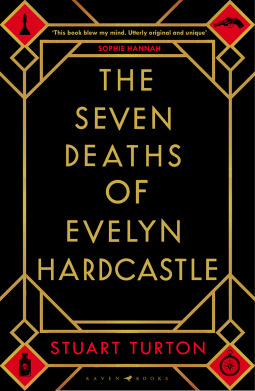 At a gala party thrown by her parents, Evelyn Hardcastle will be killed–again. She's been murdered hundreds of times, and each day, Aiden Bishop is too late to save her. Doomed to repeat the same day over and over, Aiden's only escape is to solve Evelyn Hardcastle's murder and conquer the shadows of an enemy he struggles to even comprehend–but nothing and no one are quite what they seem.
Deeply atmospheric and ingeniously plotted, The Seven Deaths of Evelyn Hardcastle is a highly original debut that will appeal to fans of Kate Atkinson and Agatha Christie.
I loved this book. I loved that I was confused, intrigued, amazed, perplexed. I loved that my brain nearly short circuited as I tried to get my head around what I knew, what clues I should be picking up on, weaving together this story told in fractures and out of order and yet happening all at the same time.
Turton takes you on a journey unlike any before to help solve a mystery like you've never seen, I cannot believe this is his debut novel. What he has done is incredibly complicated but brilliant. It's the desire of every detective to see everyone's perspective of the moments before a murder and with a mystery and a loop trapping the participants, it is the opportune moment to piece together clues and motives. Don't let the 500 pages daunt you, it's an intricately woven puzzle that makes use of the space and has the feel of an old fashion mystery, information obtained through observing and questioning, lurking and snooping, and secret meetings in the library.
I loved the loop. I love anything that has a loop factor. Turton plays with this notion creatively and in an odd way it reminds me of playing a computer game and playing the same levels over and over. The first time around you don't pick the fruit from the tree and you go on but fail. The second time you pick the fruit and can trade it for information with a villager. Turton has done an exceptionally clever job piecing this together so that the reader has no idea what is going on just like our narrator, but as he learns, we learn and it allows us to start piecing together our own theories and suspect lists.
The benefits of knowing how much longer there is in this book is you are almost giddy with anticipation at what could possibly be left to happen. There is even a moment when you think it's finally solved but there are 3 hours left on the audiobook and then all hell breaks loose again. It's divine! I listened to this riveted to my seat, unable to do anything else much because I was captured by this story. I couldn't even try and figure anything out until a moment before I was told I was wrong because of the beautiful chaos and complexities and intricacies that are seamlessly making up this story that here's no time to do anything except listen dutifully in astonishment.
Turton makes use of every one of these 500 pages and right up until the final moment there is perfect pacing that is just the right speed and intensity that the scene or the character needed. You could feel what these characters felt, you understood who they were. The ongoing stress and impact of these loops is shown believably and cleverly within the novel in a way that affects the story, it can't even just be an inconsequential act, Turton makes sure every act that is taken has meaning and an affect somewhere within this house and for its occupants.
I basically stopped doing anything so I could focus on this story, I listened with intensity for the final third of the book unable to stop listening such was the fascination I had developed. I have never read anything quite like this before, similar stories exist for sure, but what Turton has done, mixing these styles together is genius and unique and I loved every second of it. I genuinely cannot believe this is a debut novel and I certainly wait with anticipation what Turton will come up with next.
You can purchase The Seven Deaths of Evelyn Hardcastle via the following
Booktopia | Book Depository | Audible
Amazon | Amazon Aust | Wordery