Published: 20th November 2017 

Publisher: Inkitt
Pages: 206
Format: eBook
Genre: Young Adult
★   ★   ★   ★   ★  – 5 Stars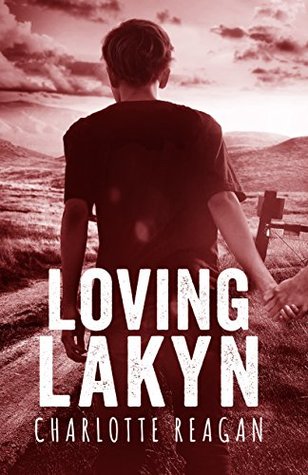 Lakyn James is sixteen years old and hating every second of it. He was supposed to be done, he'd tapped out. End of story, unsubscribe here. Suicide "attempt", they said. His intentions had no "attempt" in them. 
Re-entering normal life after 'trying' to take his own is weird. Especially when the world keeps going like it never happened. He still has to eat breakfast, go to school, and somehow convince a cute boy that he's too damaged to date. 
Scott White comes with his own problems, namely a habit of drinking too much and being indecisive about rather he wants in the closet, or out of it. Lakyn can't stand him; he also can't help smiling when Scott's around. 
Unfortunately – or fortunately – for Lakyn, life has decided to give him a second chance. He's not happy about it, but maybe, with a lot of hard work and a good therapist, he can learn to be. And maybe he can hold Scott's hand at the same time. 
No promises though. 
It's called Loving Lakyn and genuinely one sentence in I was in love with Lakyn. This is probably a biased opinion because I'd fallen in love with him reading Just Juliet so you can understand my absolute joy when I discovered there was another story about those characters and him in particular. This is a prequel/overlap kind of story from Just Juliet. It follows Lakyn's story but we also see the backstories of Juliet and Scott which were only briefly touched on in the first book. Knowing how it all ends takes nothing away from how fascinating and brilliant this book is.
There are a few content warnings to be aware of, Reagan has a full list available here, A few obvious ones from the blurb and a few not. There are scenes of cutting, constant reference to suicide attempts and scars, and references to neglect. There are also sex scenes, nothing overly graphic, but there are details. I actually liked how these sex scenes are written actually, they are tasteful but honest and Reagan doesn't make it anything other than what it is. I promise this isn't all dark and depressing, Reagan balances out the heavy subjects alongside love and friendship and family. Lakyn is the central character and with the reader inside his head your understanding is unavoidable, and this is where you see how much he is trying to heal but doesn't know how, he hasn't got the emotional tools or the strength to do it on his own.
There are brilliant, powerful sentences that pack a punch straight to your heart as well as the story. It's an emotional journey but it's enthralling to see Lakyn go through it. Reagan doesn't give us easy solutions and drives home that Lakyn's is a complicated life to recover from. I saw parts of myself in him as well as read about things I'll never be able to understand, but Reagan is brilliant at telling his story. You understand his struggle and it never feels fake, contrived, or dramatised. It felt real and your heart will break for him.
Reagan's writing is addicting and I loved falling back into this world. I smiled every time I picked up this book and it was the hardest thing to draw myself away from. Every spare minute I had I read, even if it was only another couple of pages. I was drawn in by Lakyn's story and whether it was the hard parts, or the mushy adorable romance parts it was fantastic. Lakyn and Scott together always made me smile before, and just seeing them together again brought back those memories but this time with greater understanding of their connection.
While Lakyn is not the strongest emotionally, he is also someone who knows who he is. He is not ashamed of being gay, he doesn't announce it to the world because for him it's both not a big deal and none of anybody's business, but he won't let anybody make him feel ashamed of it either. I related in some way to Lakyn and Reagan expresses his thoughts and feelings in a believable and frankly unsettlingly familiar ways. It just goes to show how believable these characters are. They could be anybody, they could be people we know and that's what make their stories so beautiful and heartbreaking because they felt real.
With the other characters, it was nice to see Juliet's journey and understand who she is, especially since we didn't explore that as much the first time around. I still felt that Rick and Mr James weren't fleshed out as much as they could have been. I understand that the story focuses on the teenagers and their lives, but so often Rick and Mr James were a bundled deal and felt like a single character. Granted they are slightly more fleshed out this time since they are in this story a bit more, but Rick I think gets left behind.
Despite the big subjects there are also fun and heart-warming moments and the exploration of a new relationship. This story deals wonderfully with the complications of having a closeted relationship, where one person is not ready to be who they are publically. While this is Lakyn's story, Reagan does a great job exploring Scott's emotional journey and past. His struggle with accepting his identity and his conservative parents, and his social life at school which he is trying to protect. About halfway through I wanted a third book that focused on Scott's back story, but by the end of the book it was so beautifully fleshed out alongside Lakyn's that I felt I understood Scott a lot as well.
Teenage boys falling in love with each other is adorable because they're both dags and they don't know what they're doing and seeing them flounder can be the best thing to read about. I was grinning and making 'aww' noises over these two, I was reading page after page with a smile on my face but I loved it. It's not cheesy it's adorable and I want more of it.
You can purchase Loving Lakyn via the following
 Amazon | Amazon Aust | Wordery
Angus & Robertson | Book Depository
 Fishpond | B&N | Publisher | Book Bub