Published:  26th September 2017

Publisher:  Imprint
Illustrator: Sarah Kipin
Pages: 281
Genre: Young Adult/Short stories
Format: Paperback
★   ★   ★   ★  – 4 Stars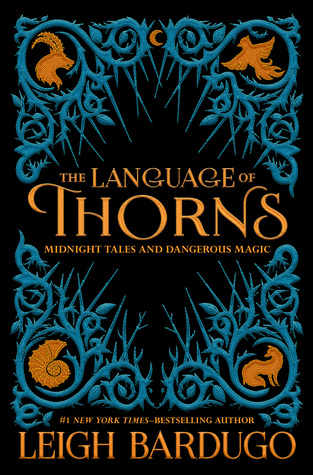 Love speaks in flowers. Truth requires thorns.
Travel to a world of dark bargains struck by moonlight, of haunted towns and hungry woods, of talking beasts and gingerbread golems, where a young mermaid's voice can summon deadly storms and where a river might do a lovestruck boy's bidding but only for a terrible price.
Inspired by myth, fairy tale, and folklore, #1 New York Times–bestselling author Leigh Bardugo has crafted a deliciously atmospheric collection of short stories filled with betrayals, revenge, sacrifice, and love.
Perfect for new readers and dedicated fans, these tales will transport you to lands both familiar and strange—to a fully realized world of dangerous magic that millions have visited through the novels of the Grishaverse.
Things to love about this book: fantastic fairytales, beautiful illustrations.
This collection of stories was a divine read. I definitely loved some of these more than others, which sounds like I hated some, but I didn't. I just adored some A LOT. There is great diversity in the style of stories and the surprises are brilliant and are incredibly clever.
The fairytales have the timeless era setting which makes them everlasting. There are sneaky characters and innocent victims, but there are wonderful tricksters with ulterior motives and who buck against their expectations.
Bardugo abides by the rule of three when it comes to fairytales. It's great to see that fairytales are not just old tales we've retained or reimagined, they can be new stories as well. I love that fairytales keep being created, they are not a long ago genre we must be satisfied with only retelling the ones we already know. These new fairy tales are beautifully written and beautifully illustrated which makes them even more magical.
One thing that must be mentioned as many times as possible is the beautiful designs that border the pages. They creep their way around the pages as the stories unfold, adding an extra dark and sinister layer as they go. Perfect in their revelations and their foreboding.
If you love fairytales you will love this. It was dark and sinister, and all the creepy, unexplained magical things of the original fairytales. This is set within the Grishaverse of Bardugo's other books but there is no need to have read them before starting this as it makes no difference if you're coming in blind.
You can purchase The Language of Thorns via the following
QBD | Booktopia | Book Depository
Wordery | Angus and Robinson | Dymocks
Fishpond | Amazon Aust | Amazon | Audible