Published: 15th April 2021

Publisher: Puffin
Illustrator: Nick Laird
Pages: 32
Format: Picture Book
★   ★   ★   ★  – 4 Stars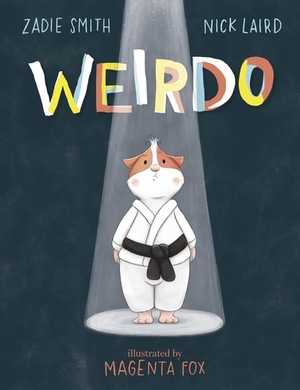 Meet Maud: a guinea pig who inexplicably wears a judo suit – and not everyone understands or approves. When Maud is thrown into a new and confusing situation, it takes brave decisions and serendipitous encounters for her to find her place and embrace her individuality.
The charming characters of Magenta Fox, whose work is evocative of Raymond Briggs and Janet Ahlberg, perfectly offset Zadie and Nick's warm, wry prose.
Weirdo is an endearing story about the quiet power of being different by two veteran writers, and introduces an exciting debut illustrator. Together they have created a picture book that adults and children alike will treasure.
I am a sucker for a cute illustration and a guinea pig in a judo suit was hard not to pick up. I liked this story because it shows that everyone is different, we all do and like different things which doesn't make us strange and Smith shows us that embracing other interests can be fun and beneficial.
Maud isn't even that weird, but being different to those around her made her weird and their unwillingness to get to know her perpetuated their opinions of her. After trying to change herself to fit in with the other pets Maud finds someone who helps her realise that being different is ok, and being different makes her her own person and there's nothing wrong with that.
Officially nameless until Kit gets home the story alternates between calling her Weirdo or The Surprise before being dubbed Maud by Kit. I loved how Smith has Maud call herself The Surprise but has others call her Weirdo, it's a great distinction on who others think she is verses who she sees herself as.
The mean pets see the error of their ways and is a nice demonstration of people not liking anything new or different, or changes to their way of doing things. Smith has told the story well without needing to drive the point home, instead they focus on Maud and her journey which I loved. You can't make other people like you, and it's much better to like yourself first.
Fox's illustrations are adorable, and I love the layout of the pages that help show movement and time passing. The different perspectives and scales are great as well, switching between pet level and human level. The tiny details are fantastic too; the pictures in background frames, details of the surrounding building and characters. It all works together to show the wider world as well as the micro world of Kit's pets.
This is a fun story that isn't too heavy on messages but still manages to make you understand being different is ok, and being weird actually makes life that little bit more enjoyable.
You can purchase Weirdo via the following
QBD | Booktopia | Book Depository