Rainbows and Raindrops by Lynn and Morris
 RELEASE DAY BLITZ
Published: 18th April 2016

Publisher: CookieLynn Publishing
Pages: 214
Format: ebook
Genre: Young Adult
★   ★   ★   ★   ★  – 5 Stars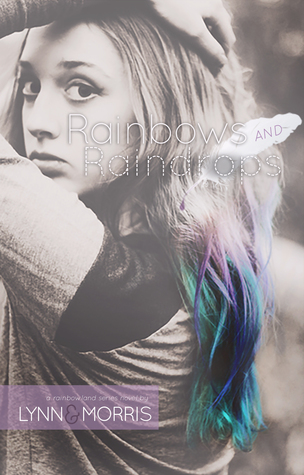 Before… They are the Musketeers–one for all and all for Rain, or however that saying goes. 
Now that Rain's sixteen, freedom is at her fingertips. Cliff jumping at the lake. Rain's first tattoo. Spence finally asking her out. With her friends by her side, there's no reason Rain can't be happy in a world that constantly tries to extinguish her addictive, carefree spirit.
After… It's just Rain. No misfits and no Musketeers.
Until Rain pulls up to her new summer job and discovers the two people she's been hiding from–Spence and Landon– are her new cabin mates. Landon's determined to help Rain overcome her guilt and remember what once was. As they become closer, he awakens a part of her soul she never thought she'd feel again.
Making Rain wonder if, despite all the mistakes she's made, it's worth trying to get back to the girl she used to be.
Note: I was provided with a copy of this book for review.
I can promise you that after reading the first few pages of this I was sure I wasn't going to love this book. I judged early and based on those first pages I thought that this girl Rain was going to become tiresome if she was that over the top through the whole story. She was a loud, over bearing extrovert that seemed to take up all the space, but my mind quickly changed. I really thought after her big introduction that I wouldn't like Rain, but once you understand, even before "the event", once you see her life and her situation and know there is a different side to her. Wild is definitely a good word for Rain, free spirit is close, but not quite. She is trying to escape her reality, doing things in the moment and looking for little joys in life which can make her reckless.
This is a before and after type story, jumping between moments, scenes, and time to tell a complete story with some intrigue and mystery. Lynn and Morris bring Rain's before world to life with all the colour she brings to it, and contrasts it beautifully with the after. What I loved was the mystery of what happened wasn't dangled in front of your face, the focus surrounded Rain and her emotions, her feelings and her thoughts. Despite not knowing what had happened Rain still got inside your heart and made you feel all her emotions alongside her.
Even once it's revealed the aftermath is captivating enough, Lynn and Morris' writing engrosses you and you become invested in these characters, their lives, emotions, and loss. The story makes you anxious and nervous, not so much for the romance aspect but because of the conflict and pain and guilt that is coursing through it.  I became so involved with this story I was compelled to keep going. It really does grab a hold of your heart and the more you read that grip tightens and makes your heart beat faster and the butterflies swarm. I became nervous for these characters, worried, sad, fearful, and proud of every one of them. Nothing felt rushed or outlandish, there were no quick fix solutions and seeing Rain work through her pain and see the others do it as well felt honest.
Emotion definitely drives this story, emotion and the characters. I didn't feel a romantic suspense, or even a love triangle, not that there isn't romance, but it isn't the focus of the story. Grief and dealing with loss is the driving force but it's also about friendship and being young, afraid, and fearless.
I really fell in love with each of these characters for different reasons and I really didn't mean to. Everyone from Rain to Spencer, to Annie and Stacey, they're so much like real people you want to comfort them and help them as best you can. I loved Spencer and Landon early on, they're such sweeties and Landon is such a wonderful friend to Rain, they have been there for one another for most of their lives and their intense friendship is beautiful. The entire friendship of the group is wonderful; because they all have different home lives and struggles, the four of them find solidarity and comfort in each other. They make their own family and support one another. This bond is so beautiful, one that crushes you even more once it's broken.
Lynn and Morris don't make the journey easy, and nor should it be. But the emotions Rain feels are honest and you really get a sense of her fear and shame, and the guilt she feels. Fixing a past you've run away from is never going to happen overnight and that's what makes this so excellent, everything from the characters to the pacing, the gradual improvements and the setbacks. It takes the time it needs to tell the story right, and when you come out the other side you feel satisfied.
There is so much I want to say about this story but can't for fear of giving away too much. Trust me though when I say that it's heartbreaking, and beautiful, and honest, and captivating, and all those wonderful words that people use to make you read a book. It is a wonderful story, one I couldn't stop reading, and I am so glad it is the first in a series because I can't wait to keep reading about these guys.
You can purchase Rainbows and Raindrops via the follow
ABOUT THE AUTHORS

Kelley Lynn
YA author with genre commitment issues. Eventually the day came when the voices in Kelley Lynn's head were more insistent then her engineering professor's. So instead of turning to her Thermodynamics book, Kelley brought up a blank page on her computer and wrote. Somewhere along the way she became a Young Adult author. Kelley's enjoyed working with traditional publishers as well as publishing work on her own. Feel free to hang out with Kelley at her Facebook Page or see what she's tweeting about. (@KelleyLynn1) She loves to get feedback on her work through authorkelleylynn@gmail.com. 
Jenny S Morris
I'm a working wife and mother. Lover of music, avid reader by day and writer/ninja by night.
I love almost anything geek related, and I may have a Kdrama addiction