Published: 7th May 2015

Publisher: Bloomsbury
Pages: 240
Format: Paperback
Genre: Junior Fiction
★   ★   ★   ★  – 4 Stars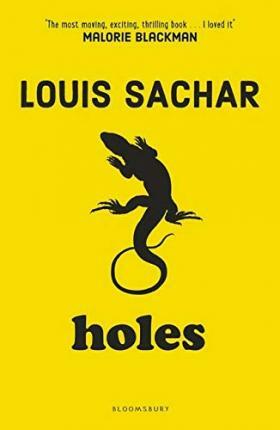 Stanley Yelnats' family has a history of bad luck going back generations, so he is not too surprised when a miscarriage of justice sends him to Camp Green Lake Juvenile Detention Centre. Nor is he very surprised when he is told that his daily labour at the camp is to dig a hole, five foot wide by five foot deep, and report anything that he finds in that hole. The warden claims that it is character building, but this is a lie and Stanley must dig up the truth. 
I was pleasantly surprised by the complexity of this story. It was short and simple but there was a deep connectivity that I loved woven masterfully through the whole thing. Sachar goes between the present and the past in introducing Stanley and his story remarkably well. It feels natural to jump between history and the present and even with a line or two to remind us of what scene we're still in before explaining the past is all you need to centre us again.
The characters are entertaining and unique, complex but simple enough for this relatively short story. Stanley is a great character and the other boys at the camp all have their own personalities that aren't too developed but still feel like real people. Sachar explores the mentality of the past with sly remarks and hidden meanings so you often know what he is saying without saying it and often this other timeline is captivating enough you forget it's only a flashback.
Despite being a quick read the family curse and the quirks and charms of Stanley and his family make it an entertaining and endearing read. There is a lot of heart shown throughout and there is a definite good guys/bag guys, adults vs kids approach at the Camp that younger readers would identify with. There are good adults too, as well as troublesome kids, but the character development and lessons learnt are well earned and rewarding given the events that happen.
I wasn't expecting to like this story as much as I did. The convergence of the past to the present is beautifully intertwined and the lives of these characters, past and present, are heart-warming, bittersweet, and at times a little bit heartbreaking.
You can purchase Holes via the following
QBD | Booktopia | Book Depository
  Amazon | Amazon Aust | Audible