Published: 1st October 2013

Publisher: Solstice Publishing
Pages: 265
Format: Paperback
Genre: Fantasy
★   ★   ★  ★  – 4 Stars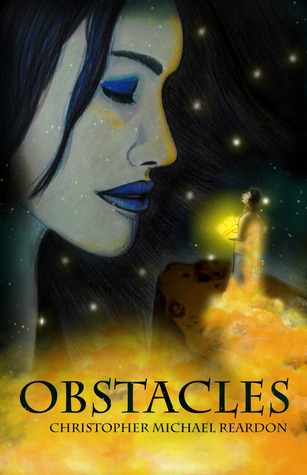 A child will die. You're afraid to live. Would you go to all lengths to save him? Darkness knows no bounds, as Alcott, an African American doctor sees all too well. The man is petrified by death. His fragile existence rests at the mercy of the universe. This fact is far too much for him to handle. From unyielding nightmares to elevator terrors, he's lost in paranoia.
Assigned to look after an ill child, Alcott's horrors only heighten. Gari is a nine-year-old boy with a fatal disease. He will surely pass on within the year. Alcott bonds with him more and more each day. Part of him knows this grim fate just isn't right.
Alcott befriends a hospital patient. This lunatic forces him to lug home an ancient text on bringing back the dead. Despite the man's obvious dementia, Alcott attempts the scheme. Charging up a cliff, he recites the chant over ocean gusts. 
A god woman glides in from the horizon. She instructs Alcott on the trials to save Gari's life. These fearsome Obstacles require true strength. From battling sharks to wielding a flail, he must prove fortitude against genuine danger. Alcott decides his fate at this moment. 
Death's claws shall not grasp Gari's soul. 
Note: I was provided a copy of this book for review
Obstacles is the kind of book that brings you the unexpected in an engaging and unique story. The complex magical realm of the obstacles and the rules and logics behind it are creative and unique and add a new element to the fantasy genre. The story follows Alcott, a live in doctor for the terminally ill Gari, who wishes he could save the young boy's life. When he is given a mysterious spell book with a promise that is will save Gari's life, Alcott pushes past his paranoia and his fear of death in order to try and save him.
There is a great realm of believability and realism through this story, and it is matched by a wonderful fantastical element. The premise of Reardon's story is not to create heroes out of ordinary people, but instead is shows ordinary people trying to achieve the impossible in order to save someone in a truly selfless act. Alcott and the others participating in the obstacles all have their own reasons for partaking and we slowly see these reasons emerge as the story progresses.
There is a great amount of action and Reardon uses it well and balances the excitement and the fantastical well. The obstacles they all face show great imagination on Reardon's behalf; they are clever and entertaining and filled with uncertainties that keep you guessing. The anticipation the contestants feel also translates across the page meaning you also feel nervous for the outcome and are unsure what will happen.
Reardon's strengths are in his creativity and expression of these ideas and the design of the world as well as his ability to surprise without losing sense of the story. In saying this, there are a lot of things unexplored. There are a few mysteries that are easy to leave unanswered such as the origin and nature of the mysterious book, as well as some of the elements in the magical realm, but other areas were less mysterious and more flat.
Connection with the characters, even Alcott, was only on the surface I felt. The emotions and fears and hopes of characters were known, as these are the reasons for their decision to partake in the Obstacles, but you could not really connect with them as people. But this doesn't make you not enjoy the book, it was more a realisation after the fact that you do not really know these characters, instead the story and the events pull you along and you experience the characters in how they experience the obstacles and interact with the people around them.
An argument can be made that more detail could be given about the mysterious world but the story was never really trying to be about the world, the focus was on Alcott and his mission, any information and details provided relate to his goals so any need for further detail is in part just curiosity and a desire to know the world completely.
One thing I did keep noticing was that while Reardon uses words well to capture scenes and create scenarios, the use of adjectives regarding dialogue is not very broad. Conversations are often described as being yelled or shouted, which do not always suit the actions they are describing, and even then it is noticeably repetitive and you realise how common it is. But once you get used to the language it is easy to move past it and refocus on the story itself.
The ending I found interesting as it could have gone in so many different directions. What makes it work I think is that the characters accept it, therefore the reader accepts it, despite its unexpected nature from what you thought would happen. It also leaves a few things hanging to allow readers to draw their own conclusions about what could happen next.
There are multiple twists and surprises through this story so you are never quite sure what is going to happen but you are intrigued to find out. Reardon's writing is captivating and unique and Obstacles is a compelling story that shows how people are willing to go to extreme lengths to save the people they care about.
You can purchase Obstacles via the following