Published: 16th July 2013

Publisher: Speak
Pages: 372
Format: Book
Genre: Young Adult
★   ★   ★   ★  – 4 Stars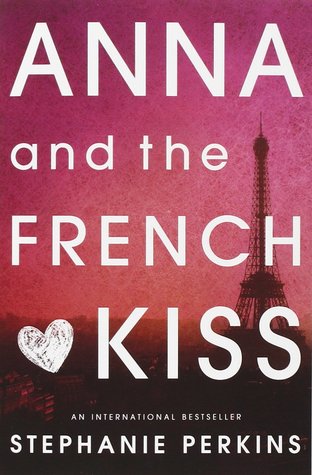 Can Anna find love in the City of Light?
Anna is happy in Atlanta. She has a loyal best friend and a crush on her coworker at the movie theater, who is just starting to return her affection. So she's less than thrilled when her father decides to send her to a boarding school in Paris for her senior year.But despite not speaking a word of French, Anna meets some cool new people, including the handsome Étienne St. Clair, who quickly becomes her best friend. Unfortunately, he's taken —and Anna might be, too. Will a year of romantic near misses end with the French kiss she's waiting for?
There are definitely two emotions one experiences whilst reading this book. On one hand, it is sweet and adorable and there are lovely French sites and wonderful friendships and cute, sweet romances. On the other hand, there's a boy who essentially cheats on his girlfriend because he hasn't got the emotional stability to be alone, both have too many emotions that can't seem to stay balanced for more than five minutes, and other kinds of moral problems that just don't sit right.
Focusing on the good though, I loved that Perkins took the friendship route. I loved the entire first half where Anna and the nice French boy Étienne St Clair become friends as he shows her around France. There's not anything to worry about and you fall in love with their friendship. I loved that Anna didn't pine for the boy across the room without really meeting him, she got to know him and be a close friend first and foremost which made their relationship and the story much better.
I enjoyed the narrative a lot; I liked the normalcy of it before the relationship drama really began. I liked seeing Anna find her feet and making friends, seeing her navigate through this French school as best she could. Character \wise though, Anna was complicated. To be honest, all the characters were interesting and had some issues, but my word they were dramatic. Very dramatic, and so many emotions! Anna was such an emotional yo-yo it was hard to keep up. She also cried a lot. A lot. For no reason, at the drop of a hat, for the smallest thing. It's a character choice I guess, the sensitive girl, but I swear there are times when crying is not the right reaction and there's some stuff that maybe could be solved without tears.
St Clair was another emotionally and angst-ridden teen. St Clair is the typical YA boy: the hair, the smile, the eyes, the way he chews on his nails is even meant to be adorable, and I'll be honest, at times I hated myself thinking that was adorable but credit where credit is due, Perkins makes you fall in love with these two and makes all the problematic moments easy to forget. Like Anna, St Clair is an emotional confusion which makes him a pain at times with his own indecision, but I guess it is meant to be romantic or something.
I certainly shifted between them being adorable and rolling my eyes at them which was weird. They shifted between the two so quickly so one minute I was rolling my eyes then I was 'awwing' at their sweetness. It was an odd experience but in a weird way, I think the sweetness worked out, even if it was hilarious at times watching them discusses their situation and I hate St Clair at times for his actions.
I know there are problems in this about characters and their actions, but I think I was won over because it was sweet and it was a romance that was built up through friendship and accidental feelings. But I will openly admit that I feel a bit wrong in doing so.
You can purchase Anna and the French Kiss via the following
Wordery | Fishpond | A&R Bookworld