Published: October 1st 1998 (print) / 1 May 2017 (audio)

Publisher: Harper Perennial / Bolinda / BBC audio
Pages: 248 / 2 hours 32 minutes
Narrator: Eleanor Bron
Format: Audio
Genre: Fantasy
★   ★   ★   ★  – 4 Stars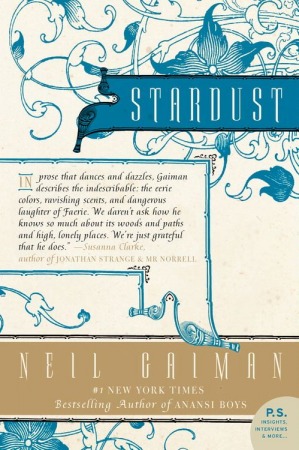 Life moves at a leisurely pace in the tiny town of Wall—named after the imposing stone barrier which separates the town from a grassy meadow. Here, young Tristran Thorn has lost his heart to the beautiful Victoria Forester and for the coveted prize of her hand, Tristran vows to retrieve a fallen star and deliver it to his beloved. It is an oath that sends him over the ancient wall and into a world that is dangerous and strange beyond imagining…
I had watched the movie years before I even knew it was a book, and was glad enough time had passed that I didn't remember it so I couldn't compare the two. I listened to this as an audiobook too which was actually a full-cast dramatization from the BBC. That made it a really great experience, aside from the fact they get a bit too detailed and you have to listen to people talk while they're eating and drinking which for me was super uncomfortable to listen to. The cast did a great job telling the story. It had great voice casting as well as accompanying soundtrack and sound effects. It was a little something extra than a normal audiobook experience.
One thing I found really interesting about this is that it felt like a short story, even though it was a full novel. The whole book had this duel sense to it, it had a simple premise but it felt full whilst reading it, and it felt substantial even when it wasn't an overly busy plot.
Tristran is naïve in a way, he is in love which makes him idealistic. He doesn't pick up on cues from Victoria about her lesser interest in him and he is determined to win her heart. On his quest to find the fallen star we see his good nature shine, and we become involved with his story and worry for his safety because there is no telling where this story might go. The unexpected and the cruel happen much like any fairytale story, but there is still a sense of good shining through.
The thing I love about magic is how the rules can be interpreted and how the regular rules of the universe don't work. I loved the way Gaiman told this story, I loved how magic is used and how the rules of the magical world play out in the human one in different ways. There are twists and turns and for a simple find and recover story, there are intricate subplots happening that intertwine and connect, even when you don't realise it. This is where Gaiman is good at his storytelling, creating a story that captivates you and pulls you in, without making it needlessly complicated or grand, yet still providing substance and beauty.
One thing which I both enjoyed and was a bit struck by, was the ending. It is great certainly, but it does end rather abruptly. You get a satisfactory ending for the story that's told, but I feel like more could have been said just to round off the edges better instead of cutting it so sharply. But that may be the way of the fairy tale Gaiman was trying to tell.
When I finished I did sit down with the intention to rewatch the movie, but from the first instance I saw the differences I turned it off. Even if it was a decent adaptation, one of the things I loved most about the book was changed in the movie and I chose to preserve that memory instead. The way Gaiman uses magic was some of the best parts and when that didn't translate I chose to not continue, though I'm sure it was a decent movie, it was more a personal choice than that it was a poor adaptation.
You can purchase Stardust via the following