Published: 18th June 2013

Publisher: William Morrow Books
Pages: 384
Format: Paperback
Genre: Fantasy
★   ★   ★   ★   ★  – 5 Stars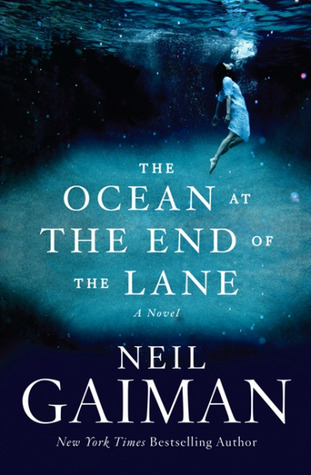 Sussex, England. A middle-aged man returns to his childhood home to attend a funeral. Although the house he lived in is long gone, he is drawn to the farm at the end of the road, where, when he was seven, he encountered a most remarkable girl, Lettie Hempstock, and her mother and grandmother. He hasn't thought of Lettie in decades, and yet as he sits by the pond (a pond that she'd claimed was an ocean) behind the ramshackle old farmhouse, the unremembered past comes flooding back. And it is a past too strange, too frightening, too dangerous to have happened to anyone, let alone a small boy.
Forty years earlier, a man committed suicide in a stolen car at this farm at the end of the road. Like a fuse on a firework, his death lit a touchpaper and resonated in unimaginable ways. The darkness was unleashed, something scary and thoroughly incomprehensible to a little boy. And Lettie—magical, comforting, wise beyond her years—promised to protect him, no matter what.
A groundbreaking work from a master, The Ocean at the End of the Lane is told with a rare understanding of all that makes us human, and shows the power of stories to reveal and shelter us from the darkness inside and out. It is a stirring, terrifying, and elegiac fable as delicate as a butterfly's wing and as menacing as a knife in the dark. 
I read this when it first came out and I bought the beautiful hardcover that Gaiman signed and devoured it in one sitting. This is where Neil Gaiman shines: writing dark, mysterious stories that are like a new breed of fairytale and yet they are still so real as well. I loved this book, it was mysterious, dark, funny, obscure, strange, all these things in this one little book.
I loved the structure of the story too, it's framed in a way that makes you think you'll get answers, but you don't, not really. Not that this takes away from the beautiful storytelling. You never find out who the funeral is for, thought I think either we're either not supposed to know because it is either irrelevant or it is obvious. You can certainly find your own answers based on a few snippets here and there but nothing concrete. This open ending only adds to the mystical nature of the story and though answers would be nice, they are by no means necessary.
What I like about child protagonists is that so little phases them usually, but they do get scared and they get scared excellently. So while little George seems to accept the Hempstock family and all their strangeness quite well, monsters and mysterious women unsettle him, and the way Gaiman expresses this fear was wonderfully done. It is an odd thing to like in a book, child fear, but this book is so much about what it means to be a child and Gaiman captures it beautifully and with a touch of magic.
You get caught up in the story that you kind of forget it is bookended, it is only a memory, a very vivid memory, and it is rather wonderful how Gaiman has connected everything together. Nothing is completely solved, but you understand that things will be ok at the same time. It is quite strange and certainly not the kind of story that would be enjoyed by everyone, but I certainly thought it was excellent and I loved this peculiar journey Gaiman took me on.
You can purchase The Ocean at the End of the Lane via the following
Booktopia | Book Depository | Audible
Amazon | Amazon Aust | Wordery