Published: 14th March 2006 (print) / 15 June 2012 (audio)

Publisher: Alfred A. Knopf / ABC Audio
Pages: 552 / 14 hours 22 minutes
Narrator: Dennis Olsen
Format: Audio
Genre: Historical YA
★   ★   ★   ★  – 4 Stars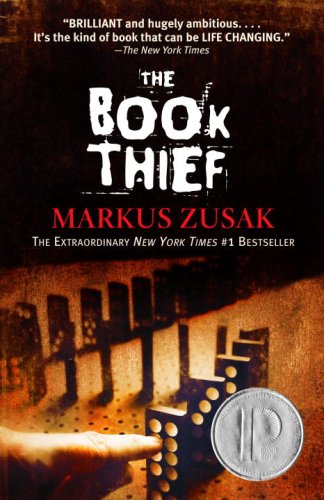 It is 1939. Nazi Germany. The country is holding its breath. Death has never been busier, and will be busier still.
By her brother's graveside, Liesel's life is changed when she picks up a single object, partially hidden in the snow. It is The Gravedigger's Handbook, left behind there by accident, and it is her first act of book thievery. So begins a love affair with books and words, as Liesel, with the help of her accordian-playing foster father, learns to read. Soon she is stealing books from Nazi book-burnings, the mayor's wife's library, wherever there are books to be found.
But these are dangerous times. When Liesel's foster family hides a Jew in their basement, Liesel's world is both opened up, and closed down.

I'm glad I finally got a chance to read this, it has been on my list for a very long time and thankfully it didn't disappoint. There were some adjustments to make with the audio format, it took a lot of getting used to, but at the heart of it, it's a beautiful story.
Zusak's approach to the story is quite unique. I loved the narrator and I loved how the story jumped around in time, always connecting back to things with a seamlessness. I actually kind of liked that some parts were spoiled early on, it made me think that if key spoilers were going to be announced in the first few chapters, whatever secrets that were kept must have been even bigger. Little did I know that Zusak's plan was to ruin you in a completely different way with words that crush you and emotions that sneak up on you when you thought you were safe.
There are so many components that bring this book together: the characters work together with the history, and their environment brings it all together perfectly. Zusak's blunt in some ways, but can weave a descriptive sentence in other ways as well. In a conflicting situation, I both loved and hate the side notes. I liked that they were like small information snippets or opinions from the narrator that provided more information to the reader and it gave it a nice aspect of being like footnotes while you read. The problem with them though is they didn't translate to audio very well. Not that they couldn't have, just that they weren't done very well in this instance. Olsen does a fine job with the audio, but the sidenotes are told in hushed tones, something that is very hard to hear sometimes. It also made me realise I'm not a fan of accordion music.
Another thing I loved was that Zusak doesn't shy away from harsh realities. He brings out the strain and the tension of Hitler's Germany, as well as the pressure to conform and the consequences if you don't. Zusak manages to explore a wide range of the social and political climates through his characters without it feeling like they are being forced into situations in order to explain things. There was no sense of Forrest Gump where all the important things happen to be connected to the characters, and yet with the structure Zusak has created, there is always a natural way to get all the information across and bring the main characters into the story.
I did think it was a bit long. I get that it is meant to be an ongoing story that builds up gradually over the course of the war, but my halfway I was a bit tired. I still enjoyed the story, but I was surprised that I was only half way. In a way it made sense not to rush it, there is a lot of power in a slow story that sinks its teeth into you and makes even the smallest action weigh heavy by the end of the book, especially over the course of a war. Of course I got my second wind and by the time I got to the end I'd gotten back into the swing of the story and Zusak brings this epic journey to a brilliant end. It's poignant, heartbreaking, and for all the warning you get through the entire book, Zusak still manages to punch you in the heart.
You can purchase The Book Thief via the following
Booktopia | Book Depository | Wordery