Published: 16th January 2018 (print)/16th January 2018 (audio)

Publisher: Harper Collins/Harper Audio
Pages: 416/10 hours 12 minutes
Narrator: Kate Rudd
Format: Audiobook
Genre: Young Adult / Mystery
★   ★   ★   ★   ★  – 5 Stars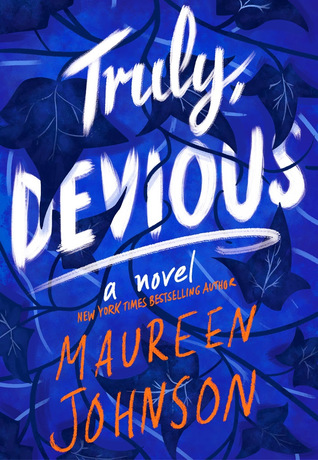 Ellingham Academy is a famous private school in Vermont for the brightest thinkers, inventors, and artists. It was founded by Albert Ellingham, an early twentieth century tycoon, who wanted to make a wonderful place full of riddles, twisting pathways, and gardens. "A place" he said, "where learning is a game."
Shortly after the school opened, his wife and daughter were kidnapped. The only real clue was a mocking riddle listing methods of murder, signed with the frightening pseudonym, Truly Devious. It became one of the great unsolved crimes of American history.
True-crime aficionado Stevie Bell is set to begin her first year at Ellingham Academy, and she has an ambitious plan: She will solve this cold case. That is, she will solve the case when she gets a grip on her demanding new school life and her housemates: the inventor, the novelist, the actor, the artist, and the jokester. But something strange is happening. Truly Devious makes a surprise return, and death revisits Ellingham Academy. The past has crawled out of its grave. Someone has gotten away with murder.
I finished reading this book and immediately wanted to read it again. I don't mind waiting for the next one, I will live on the excellent cliff-hanger for a year if I have to, it will give me a chance to go back and relive the wonderful clues because even that cliff-hanger had clues once I thought about it. It's divine.
Johnson knows how to write a good mystery and is great at writing a mystery that doesn't feel too intense or overly complicated. She balances the mystery and the regular story wonderfully but blends them together marvellously.
There are the red herrings, plus my CSI brain went over the top and I already have a suspect for the 1930s case, not so much for the current one. I love that nothing is what it seems and what might just be a shy or reclusive character is now a suspect. Having a mystery around a bunch of teenagers is a great premise and in a grand old school with grounds and hidden tunnels is a prime location.
Johnson is new to writing these kinds of mysteries but she already a master at creating a fascinating and captivating mystery filled with unique characters that have quirks and fantastic personalities. Stevie is a great character, she is passionate and a tad obsessive about the Ellingham mystery. Stevie loves true crime podcasts and detective books which drive her passion and thinking processes. But I also love that she has her own flaws; she has anxiety, she isn't the friendliest and she is often lost in her own world. It was refreshing to read about a character like her, driven and focused and perplexed by other people.
One thing I adored was listening to it as an audiobook. Rudd does a fantastic job and the tone and voice of Stevie is natural and flows seamlessly. As with all of Johnson's books there is so much of herself in these words. The story is written the way she speaks and tweets which was a delight, plus Rudd's voice sounded like Johnson's which, for me, was like having Johnson herself in my ear which made it even more wonderful.
You can purchase Truly Devious via the following
Booktopia | Book Depository | Audible
Amazon | Amazon Aust | Wordery