Published: 15th April 2014 (print)/15th April 2014 (audio) 

Publisher: Simon & Schuster Books for Young Readers/Recorded Books
Pages: 355/8 hours 22 minutes
Narrator:  Laura Knight Keating
Format: Audiobook
Genre: Young Adult
★   ★  – 2 Stars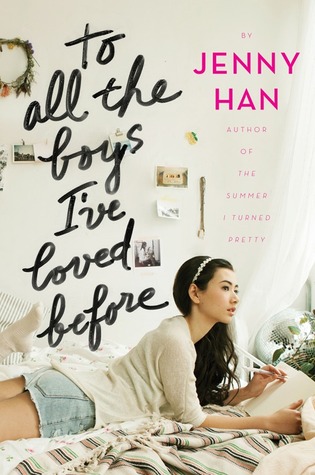 To All the Boys I've Loved Before is the story of Lara Jean, who has never openly admitted her crushes, but instead wrote each boy a letter about how she felt, sealed it, and hid it in a box under her bed. But one day Lara Jean discovers that somehow her secret box of letters has been mailed, causing all her crushes from her past to confront her about the letters: her first kiss, the boy from summer camp, even her sister's ex-boyfriend, Josh. As she learns to deal with her past loves face to face, Lara Jean discovers that something good may come out of these letters after all.
I didn't really like this book but I am not going to tear it apart because I was more confused than anything. Confused why it's so loved, confused why people love Peter, and confused because it was a strange book where nothing happens.
The premise is reasonable, but the execution was unsatisfactory. I understood the sister dynamic that Han was aiming for, the loss of a big sister when she moves, the little sister relationship and the adoration of the cute boy next door, but something was missing. There was family charm and Han explains the relationship well, I just never felt it.
The narrative was boring and I struggled to make myself finish it. The fact I was on a 17 hour flight with little else to do is the only reason I kept going. With the only plot point this forced romance and a small mystery about the letters, it wasn't much to hold onto into terms of depth and interest.
I am seriously going to have to watch this movie now because I did not get the adorable Peter vibe from this book. I got the Peter is a tool and he is annoying and cannot fathom why people think he is a sweet, charming person? This relationship between them is fake, and even when Lara Jean convinces herself she likes him for real, it still felt fake. I did not believe for a minute they actually liked each other like that. They may have become friends, may have got to know each other better and like who they were, but there was no romance. The triangle was unrealistic and the whole thing felt unbelievable. And Peter remained unlikable.
With no character growth I felt nobody learnt anything, and I seriously cannot mention the anticlimactic ending enough because the point of this novel is that ending and it fails. It doesn't even sit like an open ended, audience decides thing, it just ends.
I actually had an ending in mind based on how Han had constructed this which would have been a great ending to a lacklustre book, but it never happened. I actually felt betrayed that this perfect ending was practically laid out before us which never eventuates. It would have made everything worthwhile if that had happened, but alas, it ended on a strange cliff-hanger (if that's what we can call it), for book number two. I don't really think I will be running out to read it, but if I find myself on another 17 hour flight with nothing to do I might pick it up.
You can purchase To All The Boys I've Loved Before via the following
QBD | Booktopia | Book Depository
Angus and Robinson | Dymocks | Wordery
Fishpond | Amazon Aust | Amazon | Audible