Published: June 1975 (print)/1 September 2005 (audio) 

Publisher: Avon Books/ABC Audio
Pages: 478/5 hrs
Narrator: Kerry Francis
Format: Audiobook
Genre: Classic/Young Adult/Fantasy
★   ★   ★ – 3 Stars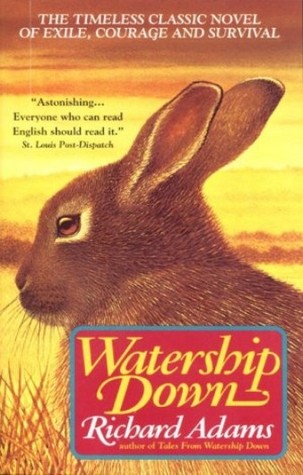 Set in England's Downs, a once idyllic rural landscape, this stirring tale of adventure, courage and survival follows a band of very special creatures on their flight from the intrusion of man and the certain destruction of their home. Led by a stout-hearted pair of friends, they journey forth from their native Sandleford Warren through the harrowing trials posed by predators and adversaries, to a mysterious promised land and a more perfect society. 
The way I had heard people talk about this book I was expecting it to be filled with death, heartache and disaster. I compared it to Animals of Farthing Wood where they lost members of their party and the entire book was about their journey. This was not entirely the case, but I guess, in a way, this was also a tough journey, especially into the unknown.
The different rabbit warrens were interesting and seeing the different scenarios they came upon made for an entertaining read. Seeing our world through the rabbit perspective was curious because sometimes they knew what things were other times they didn't. This of course was due to where they lived. They knew some human things but not others because they had never seen them before.
I listened to a dramatisation which said it was unabridged but I was looking at my physical copy later and I'm sure most of it was there, but with dramatisations there is a lot less "he said, she said" required not to mention description as you can act it out with different voices and sound effects which might have made the difference.
The actors brought the characters to life really well, I liked the voices chosen for them and it reflected their personalities. Hazel was a wonderful character, he wasn't flawless but he had a good heart. Surprisingly Fiver didn't annoy me as much as I thought he would with his dramatics. They never explained much but perhaps that was the mystery of the rabbit world.
Adams was clever with parallels, the stories of El-ahrairah to influence the decisions of the rabbits. It created an understanding of the rabbit community and practice and how their beliefs played into their everyday life. Inspiration from their folklore to aide their current perils. Not only that but their own ingenuity to become greater than they were in order to survive.
As heartless as it sounds, I enjoyed the ending. I liked that brains beat brawn and even if some parts were strange, overall it was a good story. I'd always heard about this horrible ending and I can see how it might be a tad traumatic if you were a kid. I watched the movie afterwards, the 1970s version, and I can see their point. Despite the cartoon nature the violence really shines through and I will agree that end scene was visually very bloody and violent.
Thinking about it, I did enjoy the story more than I might have been in the middle. I have a few questions such as their ongoing (but logical) obsession with does, but also the fact they never try to rescue anyone else from their sorry lives when they meet them. Surely there would have been others who would have loved to come and join them, but they never thought to ask. If that is my only true criticism then that's not so bad.
You can purchase Watership Down via the following
QBD | Booktopia | Book Depository
Dymocks | Wordery | Angus and Robinson