The first four months of the year have passed, way too quickly for my liking but here we are. Now that May has arrived it's time for the first update in my Book Bingo Challenge. This is inadvertently and definitely the year for reading the things I've been meaning to read for a super embarrassingly long time.
I am still not trying to make a line at the moment even though I am very close, I am more curious to find later that I've read something that will fit into a box. A small part of me though is keeping an eye out for suitable books that I can read that fall into my categories. It's a complicated mash up of all the things which is working totally fine for me right now. In all honestly I'm just a little happy I am remembering to actively participate in my own bingo challenge this year.
Debut Author
An Absolutely Remarkable Thing by Hank Green
I was so excited to read this story and Green did not disappoint. I love his complex ideas and the insight of the media and the internet community is something he is more than qualified to explore. With gripping writing and a wonderful science fiction aspect it is a wonderful story and I am so excited (and impatient) for the sequel.
Non-Fiction
Good Girl Stripped Bare by Tracey Spicer
A few years behind the fuss I'm glad I finally got to read this story. I listened to Tracey tell the story herself and from her voice it was interesting hearing her go through her life and career with all the challenges she's faced. It is an eye opening story and one that it great to hear from someone inside the industry. It isn't the most powerful book, but it does its best.
Set in Australia
The Lost Man by Jane Harper
This may be Harper's best work yet. I loved her subtle connection to her other characters and this family oriented, complicated, isolated story was one I could not put down. I read from cover to cover in one sitting and loved every minute of it. There's suspense, drama, emotions, and moral dilemmas. What more could you want?
#ownvoices
Catching Teller Crow by Ambelin Kwaymullina
I loved how Kwaymullina tells this story. It is profound, mystical, enlightening and a captivating story. The Aboriginal culture is celebrated and I loved how spirituality and practice of two different cultures come together. It's a beautiful, harrowing story and draws you in.
On TBR For More Than Two Years
Return to the Hundred Acre Wood by David Benedictus
Benedictus has captured Milne's voice beautifully. There is a difference I will admit, but the heart is there, and it is clearly the best voice to carry on the story of Winnie the Pooh and Christopher Robin. The stories ring true to those from decades ago and you can picture Pooh vividly as well as all the friends we've come to know and love.
Movie Adaptation
The Hundred-Year-Old Man Who Climbed Out the Window and Disappeared by Jonas Jonasson
This is a strange book that definitely appeals to some more than others. The movie is a decent adaptation and I would suggest if you didn't like the book or haven't gotten around to reading it, go for the film instead. It's much more enjoyable with the good quirkiness kept in and the better parts of the story being included.
Non Human MC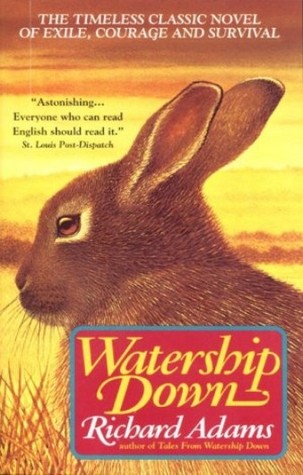 Watership Down by Richard Adams
I have finally gotten around to reading this classic despite catching a few references over the years. A decent read and one that wasn't as grand as I first thought, but dramatic all the same. There is a realism in the animals but there is also a logic and worldly knowledge.
Fantasy
The Wicked King
Holly Black has shown her master skills once more as we continue in this series. It is the perfect fantasy with magic, foreign lands, war, humans and a mess of all them combined. The magical world Black constructs is fascinating and filled with complicated drama to keep you always guessing and certainly eager for the story to never end.
A Classic
The Handmaid's Tale by Margaret Atwood
Having known the general idea of the novel before starting I was surprised at the actual exploration of this dystopian world. I enjoyed the strangeness of the story and the fact we are never quite given any answers. I'm glad I can tick this book of my list at last.