Published: 26 September 2017 (print)/26 September 2017 (audio) 

Publisher: Macmillan Australia/Wavesound Audio
Pages: 377/8 hrs and 57 mins
Narrator: Steven Shanahan
Format: Audiobook
Genre: Mystery/Thriller
★   ★   ★ – 3 Stars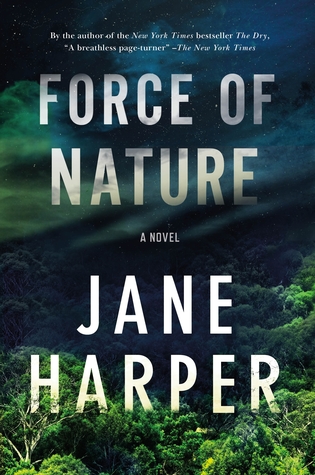 Five women reluctantly pick up their backpacks and start walking along a muddy track. Only four come out on the other side. 
The hike through the rugged Giralang Ranges is meant to take the office colleagues out of their air-conditioned comfort zone and encourage teamwork and resilience. At least, that's what the corporate retreat website advertises.
Federal Police investigator Aaron Falk has a keen interest in the whereabouts of the missing hiker, Alice Russell. Because Alice knew secrets, about the company she worked for and the people she worked with.
The four returning women tell Falk a tale of fear, violence and fractured trust during their days in the remote Australian bushland. And as Falk delves into the disappearance of Alice, he begins to suspect some dangers ran far deeper than anyone knew. 
This is the second book from Harper and the second in the Aaron Falk series. I enjoyed The Dry and I was looking forward to continuing the story but found this one slightly lacking. I felt it was a really slow start, I started and then took a break because I couldn't get into it, after three goes I stuck with it and while it took a few chapters to really cement itself it was an enjoyable read in the end.
The problem coming to the second book from an author after you've really liked the first one is that when the beginning fails to grab you, you notice it immediately. In part you see it as a slow start but you also have that voice in the back of your mind that keeps telling you that it's not as good as that other book they wrote. The difference here is that this was a sequel, the further adventures of Aaron Falk and that helped a little. Being a detective means that every case is different and while The Dry might have been a bit more exciting, this case has moments of intrigue and mystery as well.
You don't have to have read The Dry to understand what happens in this one, there is only a brief mention of the events in the past book but nothing that needs greater expansion and no connection to the events in this one. Falk remains is a good detective who is wary of stories and alibis and trying to do the proper thing for those involved.
The structure was a combination of flashbacks and present time, and the different characters each get their own perspective on what happens. This was a good approach and style because as each new piece of information was revealed by Falk's inquiry Harper takes us back to see the events play out. The characters have some depth and personality but I remained a bit uninvested in them as people even though I was curious about the mystery itself.
It's psychological and each character has their own secrets and hidden agendas. The corporate retreat brings out grudges and personal vendettas and the reader is provided with snippets of information, clues, and can create their own theories on what might have happened. The actual answer I was actually surprised by because it was not entirely straight forward but still stayed within the realm of expectation.
The main issue I found with this book is I wasn't as drawn in to the mystery. I couldn't connect with the characters and therefore didn't care about them; those missing or otherwise. As I say, it took me three goes to push through the first part but there was reward by the end with a satisfactory conclusion.
Comparing them later I was surprised I only gave The Dry 3 stars as well because as I was reading this book I remember liking the other one much more. Obviously there are varying levels of my three star enjoyment.
You can purchase Force of Nature via the following
QBD | Booktopia | Book Depository
Dymocks | Wordery | Angus and Robinson
 Fishpond | Amazon | Amazon Aust | Audible