Published: 25th April 2017

Publisher: Tor Books
Pages: 288
Format: Paperback
Genre: Mystery Fantasy
★   ★   ★   ★  – 4 Stars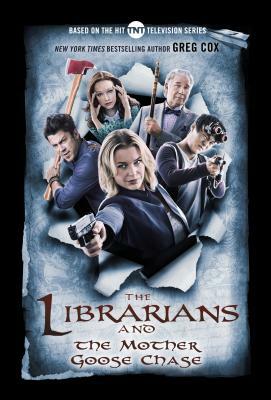 Stories have power.
In 1719, Elizabeth Goose published a collection of rhyming spells as a children's book, creating a spellbook of terrifying power. The Librarian of that age managed to dispose of all copies of the book except one, which remained in the possession of Elizabeth Goose and her family, temporarily averting any potential disaster.
Now, strange things are happening around the world. A tree-trimmer in Florida is blown off his elevated perch by a freak gust of wind, a woman in rural Pennsylvania is attacked by mutant rodents without any eyes, and a college professor in England finds herself trapped inside a prize pumpkin at a local farmer's market. Baird and her team of Librarians suspect that the magic of Mother Goose is again loose in the world, and with Flynn AWOL–again–it is up to Cassandra, Ezekiel, and Stone to track down the missing spellbook before the true power of the rhymes can be unleashed.
I adored the movies and television series The Librarians so finding out there were further adventures in book form was a pure delight and they did not disappoint. They were written while the show was airing with the understanding we know who these characters already are, but they are also whole new adventures for them to go on and mysteries to unravel.
Delving into the realm of nursery rhymes and other literature as if it were real or based on fact has always been a fun topic, I loved seeing it in Jasper Fforde and I loved it here. Of course the history of nursery rhymes is filled with half-truths and unknowns which makes it perfect for the Librarians universe.
All the characters are here – Jenkins, Baird, and the three new librarian recruits and Cox has depicted them as they appear in the show. Their mannerisms, voice, thoughts and style all correspond with the people we've been introduced to and even if this is your first introduction to them, there are enough scatterings of information and backstory that you can pieces together who these people are. This is book two officially but can easily be read out of order, as I did while I tracked down book one. There are references to past cases but whether they are in the previous book, in the show, or that happened off screen is unknown but it helps to add to their experience, backstory and their mission.
For a book with some good action scenes, all of which are well written and quite vivid, it is also a slow story of research and piecing together many clues with side quests that prove distracting in a good way. You definitely sense their frustrations of trying to fix one problem when other smaller problems keep popping up to hinder their progress. The Librarians was always about action and drama and chaos and Cox brings this to the page very well. The distribution of research and investigation, coming together into one bigger plot is great and it lets you play along and try and solve the mystery as well, working out what things mean and what piece of information is important.
What I love about these kinds of books is its connection to reality; they try to link it to real people, provide reasons and history about the various artefacts while also keeping the magical element of the Library. Every story, myth or riddle is based on a truth is a good way to look at the Librarians universe and logic so to have rooms filled with tridents and treasure chests, things manifested from rhymes, stories and legends is wonderfully clever and I love it.
The climax and resolution is incredibly clever because it plays on what you know, if you know the Librarians history, but it also allows the possibility of multiple other events and outcomes and trying to work out which one Cox will choose is a fun game on its own. I'm so glad this book lived up to my expectations and gave the perfect balance of mystery, adventure, as well as humour and being delightfully cheesy at times as well. A great addition to the Librarians collection.
You can purchase The Librarians and the Mother Goose Chase via the following
QBD | Booktopia | Book Depository
 Fishpond | Amazon | Amazon Aust | Audible