Published: 1st March 2016

Publisher: HarperCollins Australia
Pages: 320
Format: Paperback
Genre: Young Adult
★   ★   ★   ★   ★  – 5 Stars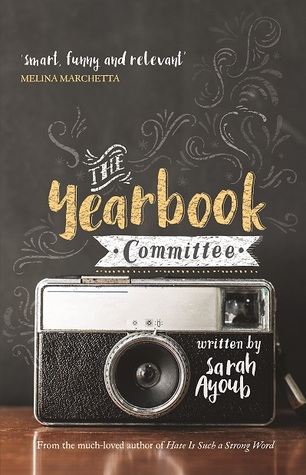 Five teenagers. Five lives. One final year.
The school captain: Ryan has it all … or at least he did, until an accident snatched his dreams away. How will he rebuild his life and what does the future hold for him now?
The newcomer: Charlie's just moved interstate and she's determined not to fit in. She's just biding her time until Year 12 is over and she can head back to her real life and her real friends …
The loner: At school, nobody really notices Matty. But at home, Matty is everything. He's been single-handedly holding things together since his mum's breakdown, and he's never felt so alone.
The popular girl: Well, the popular girl's best friend … cool by association. Tammi's always bowed to peer pressure, but when the expectations become too much to handle, will she finally stand up for herself?
The politician's daughter: Gillian's dad is one of the most recognisable people in the state and she's learning the hard way that life in the spotlight comes at a very heavy price.
Five unlikely teammates thrust together against their will. Can they find a way to make their final year a memorable one or will their differences tear their world apart?
I knew a Melina Marchetta recommendation wouldn't let me down and a reading binge until 4am proves me right. The Yearbook Committee is a beautiful story that encapsulates how people from different situations can come together (albeit unwilling), and can have their lives changed forever.
The story is told through five character perspectives, across nine months of the school year, and reveals the ups and down of teenage life and the experiences of living in contemporary Australia. The joy of reading Aussie books is recognising the locations and references, and Ayoub captures that Aussie feeling, our language and our culture, making this story feel natural and familiar.
The layout revolves around the monthly yearbook meetings and the school terms, and Ayoub's creative in getting information without needing it to be told in detail. Using character's traits and personalities to her advantage, Ayoub provides the ideal amount of information keeping it feeling natural with the story at hand. The focus is centred on the yearbook and character personal lives, and though things are mentioned within this space, Ayoub never makes us feel like we need to see them play out.
Being a book about modern teenagers, there's naturally a lot of social media to include and Ayoub integrates technology and texting seamlessly and creatively. Each character shift is broken up with a Facebook style post and it sets the tone for not only the coming chapter, but it fits into the overall and arching story. Ayoub also ends each chapter with a hanging question, a moment, or thought that can be profound or concerning. Each character is contemplating or observing and it's a great tactic; it finalises their chapter and can have such an impact on what has happened or what is going to happen.
There are characters you like immediately and certainly those you don't like for the entire novel. Then there are the few that grow on you as you read. The more Ayoub reveals about them and the more you get to know them your feelings shift until you grow to respect each one for who they are. Again, not everyone, some of them you want to kick in the face, those feelings don't change. There were times when I wanted to reach into the pages and hug these people, even now having finished it I still want to give them all a massive hug. One part that I loved was that so many characters connect with each other and overlap and they don't always know it. Friends of friends and relatives of others know one another and when you notice you realise how connected everyone is.
Getting to see each committee member's point of view is a powerful tool. You feel sorry for them all in varying degrees and certainly for various reasons. Their life outside of school is opened up and the different struggles and conflicts they face are laid bare, making you realise everyone has something to hide and problems of their own. The Tolstoy quote Gillian posts is a perfect example: All happy families are alike; each unhappy family is unhappy in its own way. Each of these characters is unhappy in their own way and sometimes these unhappinesses can break your heart.
Ayoub doesn't placate you with idealistic and fake endings; she offers you solutions and results, consequences and outcomes. And yet, there is also a delightful ambiguity remaining, taunting you with things left open and unanswered. Nothing that says there will be a happily ever after which is why, in those final emotional chapters when you can't stand it anymore but have to keep reading, Ayoub delivers a realistic and perfect conclusion, one that suits these characters you've grown to love, one that feels real, one that crushes your heart and is feels just right, even when you're trying not to cry.
My only criticism with this story (a minor personal desire), is that I wish that we could have seen the final yearbook layout. It would have been a bittersweet inclusion and if possible I would happily donate to a fund that gets this put into production. Until such time, I am content with this important, beautiful, and divine story that will open your eyes and move your soul.
You can purchase The Yearbook Committee via the following
A&R Bookworld| Boomerang Books