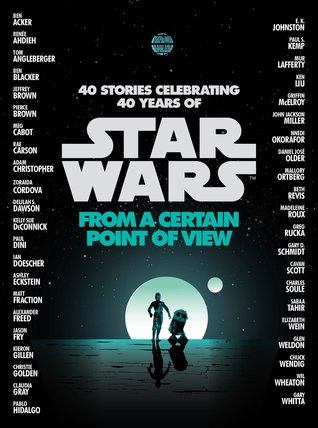 The day has finally arrived! After a long wait, the new Star Wars anthology, titled From A Certain Point Of View, has finally been released. This new anthology has been created in celebration of the 40th anniversary of A New Hope (Episode IV) and is a compilation of 40 writers who have contributed stories based on the film.
The premise is that each writer has taken a scene from the original film and told it from a different point of view, whether that's a stormtrooper who couldn't find the droids he was looking for or one of Luke's X-Wing pilots who helped blow up the Death Star.
From early teasers from authors on Twitter via #OperationBlueMilk (a reference to a drink in A New Hope), the announcement that there would be a collection of short stories about Star Wars was high on my excitement list, especially since one of my favourite podcasters was going to be a contributor. Griffin McElroy (from MBMBAM and much more) is a contributor, plus 39 other creators including Wil Wheaton, Chuck Wendig, Meg Cabot, Ben Acker, Jason Fry, Paul Kemp, and Claudia Gray, just to name a few. Of the 40 writers there's a mixture of bestselling authors, trendsetting artists, and treasured voices from Star Wars' literary history.
If you are a fan of Star Wars, or even if you aren't, this is a fascinating anthology with an intriguing premise. These are a combination of totally new stories, but based in a world we know and love around the Star Wars film.  I would love to see one of these done for all three original films, but for now, I'm content with this one.
You can purchase your copy of A Certain Point of View via the following
Fishpond | Penguin RandomHouse