Published: 3rd July 2014 (print)/26th August 2014 (audio)

Publisher: Ecco/HarperAudio
Pages: 416/1 disc
Narrator: Jessie Burton
Format: Audiobook
Genre: Historical Fiction/ Magical Realism
★   ★  – 2 Stars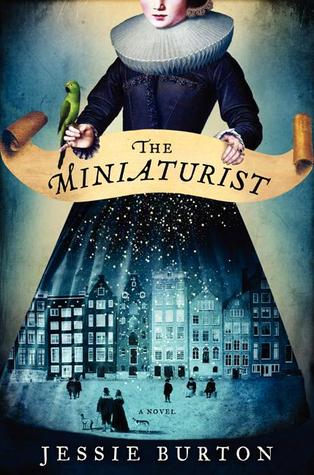 On a brisk autumn day in 1686, eighteen-year-old Nella Oortman arrives in Amsterdam to begin a new life as the wife of illustrious merchant trader Johannes Brandt. But her new home, while splendorous, is not welcoming. Johannes is kind yet distant, always locked in his study or at his warehouse office–leaving Nella alone with his sister, the sharp-tongued and forbidding Marin.
But Nella's life changes when Johannes presents her with an extraordinary wedding gift: a cabinet-sized replica of their home. To furnish her gift, Nella engages the services of a miniaturist–an elusive and enigmatic artist whose tiny creations mirror their real-life counterparts in eerie and unexpected ways…
Johannes's gift helps Nella pierce the closed world of the Brandt household. But as she uncovers its unusual secrets, she begins to understand–and fear–the escalating dangers that await them all. In this repressively pious society where gold is worshipped second only to God, to be different is a threat to the moral fabric of society, and not even a man as rich as Johannes is safe. Only one person seems to see the fate that awaits them. Is the miniaturist the key to their salvation…or the architect of their destruction?
I've given it two stars, but by the end of it I wanted to give it 1.5. I was told this was a brilliant read, I did not find this. I persevered and hoped for something to come of it. And not only did I get no real answers, the ending was unsatisfactory and I feel a bit cheated. I don't know whether this has to do with the magical realism side of the story, but I wasn't a fan.
The beginning started out ok, after a prologue from an unknown voice we're introduced to Nella and her arrival at her new life. We're thrust into Amsterdam in the 1600s and all its glory. Burton makes it easy to understand while still having the gravitas it needed and the seriousness to understand Nella's predicament, and her style of writing feels like it suits the era and is easy to comprehend.
I settled into the story and got used to Nella and the other characters. I was intrigued, I was curious. It does start to go a bit stale and as part two hit I was weary but something finally seemed to be happening. This didn't last though and the story dragged on. I think Burton tried to include too much. There's the historical story happening with sugar, plus a lot of religious elements and political components. On top of that is Nella's place and the mystery of the miniaturist. It makes for a heavy story and one that takes a lot of pages to tell.
Some parts were predictable and it was a case of waiting for the book to catch up with what you already suspected. Other times it felt like every second chapter had a typical twist of some kind and it got to the point it was just "Oh, another twist, sure, why not'. I will give Burton some credit, she actually followed through on a few things I thought she wouldn't, that impressed me. But in doing that she also added to the unsatisfactory feeling and the sense that while some things appeared to be resolved, nothing felt like it was. We're left hanging, not even with a sense that we understand how things would keep going, an abrupt finish that doesn't answer anything.
I found that I wanted to get to the end without reading the middle. I figured I could ignore this middle part and just see what happens and get the answers to the big questions that Burton keeps raising. I wanted to get to the end to find out what the whole point of it was and found nothing but disappointment. It was anticlimactic after the [supposed] build up and it felt flat.
I'd been looking forward to reading this for months and had it praised and recommended to me by a few people so I was eager to see what it was like. Not to mention the beautiful cover. To come out the other end with meagre enthusiasm is a sorry state to be in.
You can purchase The Miniaturist via the following